Princess House In Top 100 Women Led Businesses In Massachusetts
October 26, 2015
By Team Business For Home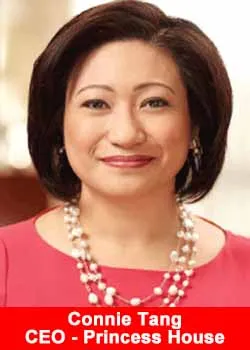 Homeware products direct selling company Princess House, based in Boston has been named as one of the Top 100 Women-Led Businesses in Massachusetts in 2015.
The Globe Magazine and The Commonwealth Institute partnered to honor organizations with the most impressive records of innovation and workplace diversity, as well as revenue and employee numbers.
The criteria for selection included an analysis of revenue or operating budget and other variables, including number of full-time employees in the state, workplace and management diversity, and innovative projects.
Princess House, led by CEO Connie Tang was placed at No.63, the only direct selling company in the list.
This is the 14th year that the Commonwealth Institute — a local nonprofit that supports female business leaders — has created the list, and the third year that the Globe Magazine has partnered with the group.
The magazine interviewed Connie Tang on the lessons she has learned as a woman leader.
What mantra or mission statement has helped you succeed?
I have a fun one [often attributed to] Marilyn Monroe: "Give a girl the right shoes and she will conquer the world." Are you wearing pink fuzzy slippers, staying in your comfort zone, or are you the one who pulls out those Lady Gagas? They may be a little shaky, you might even trip — but you get back up and strut down the path not only in style but rocking those shoes.
What's the best advice you give to young women?
Accepting that the right decision may not be the popular one.
What one change would make the most difference for women's workplace equality?
Women have to stop measuring themselves against their own perceptions: Am I engaging enough, smart enough, fast enough, strategic enough. You have to come to grips with your own perceptions of yourself before you can hope to influence the perception others have of you.
What myth about women in the workplace needs to be corrected?
That women are too emotional to take leadership roles, that they can't handle it; they'll cry. It's a myth, pure myth.