Zija International Celebrates Newest Emerald – Will Zanders
October 7, 2015
By Nicole Dunkley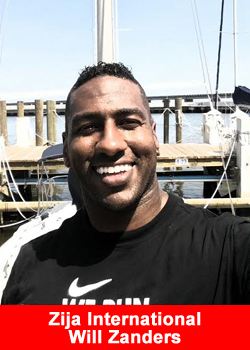 One of Zija International's newest Emerald Distributors, Will Zanders, is not your typical seasoned network marketer. He is a former lawyer, undercover narcotics agent, and jiu jitsu world champion—to name just a few things. But this is his first venture here in network marketing and in his first year he has made quite a splash.
When asked about his journey at Zija, here is what Will had to say:
"In the summer of 2014 I was working 70 hours a week and still living paycheck to paycheck in one of the most dangerous occupations in the world. I was introduced to Zija by a long-time friend who was experiencing major success and who knew that I needed a serious change.
I signed my Distributor application in a gym parking lot at midnight, plugged into the system of mentorship and training that my Sponsor gave me access to, and after a few short weeks I noticed that working a Zija business part time was working out better than my 70 hour a week job. From that point I was hooked.
I've been involved in sports and martial arts since the age of 7, and Zija's unparalleled products and lucrative financial opportunity have singlehandedly 'turned back the clock' on my martial arts career and given me the time freedom to once again compete for championships at the highest levels.
Achieving the rank of Emerald is special to me because it was a team goal rather than an individual achievement. And it shows that here at Zija International, Mr. Brailsford has created an opportunity that allows anyone the chance to succeed—regardless of time constraints or financial difficulties.
I'd like to thank my mentor-coaches, Kevin Mullens, Jessica Ellerman, and Travis Mancuso, as well as my friend and Sponsor, Josh Chavers.
And a special thank you to my incredible Downline success team; they are my family and I wouldn't have it any other way.
Will has put his team first and, along with his massive successes, he's also helped so many others to achieve greatness. He's helped his team rank advance in the process: we have 3 Golds, 5 Silvers, and 10 Bronzes. This is just the beginning for Will Zanders, with his servant-driven leadership and team-building skills he will create generational health and well-being for not only himself but for anyone willing to lock arms and work hard. Congrats Will on all your success!"
ABOUT ZIJA INTERNATIONAL
Zija International, a privately held and privately funded business founded and led by Kenneth E. Brailsford, develops natural health, wellness, nutrition and fitness products. The company operates in more than 50 countries worldwide.
Zija has seen consistent growth every year since it was founded over 9 years ago and was recently named the "Fastest-Growing Company in Utah" by Utah Business Magazine. It has also been recognized on fastest-growing and top-revenue lists by Inc. Magazine, Direct Selling News, and Utah Valley Magazine, to name a few.
With corporate offices located in Lehi and more than 4 million sq. ft. of state-of-the-art warehouse, shipping and manufacturing facilities located in Utah, United States, Zija International employs more than 200 individuals and has the capacity to grow to more than two billion dollars in annual sales.