Zrii Releases New Energy Drink, Z+
October 23, 2015
By Team Business For Home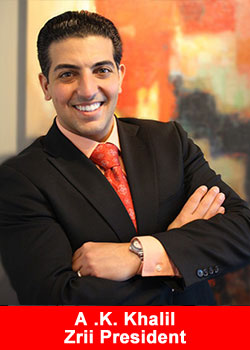 Zrii LLC. has officially announced the release of its much-anticipated new energy drink product, Z+.
The launch of Z+ marks Zrii's entry into the canned energy drink market, currently valued at nearly $50 billion worldwide (according to Beverage Daily). Z+ boasts the endorsement of The Chopra Center for Wellbeing, co-founded by renowned health expert Dr. Deepak Chopra, and features ingredients such as yerba mate, green tea, and the flagship ingredient of the Zrii product line, amalaki.
"Never before in the history of our company have we seen such excitement and enthusiasm in response to a product launch," remarked Zrii Founder and CEO, Bill Farley.
"Demand for this product has already exceeded our expectations and surpassed the demand of any other Zrii product launch."
Adds Zrii President A.K. Khalil,
"The release of Z+ is a very special moment in our company's history. It shows that we are expanding our product line to meet the needs of Zrii's rapidly growing and global market. It's a product that opens up new demographics for our Independent Executives, and it's a product that clearly outperforms the most popular retail products in this category."
Zrii's Vice President of Marketing, Kate MacArthur, emphasized the company's commitment to supporting healthy, active lifestyles. "Even the world's healthiest people have energy needs. So we designed Z+ to meet the standards of our most health-conscious customers, with only 20 calories, 2 grams of sugar, and a host of wonderful ingredients like amalaki, green tea, yerba mate, and B-vitamins. Plus the taste is far superior to that of other energy drinks.
Z+ joins the ranks of other Zrii products which have won the endorsement of The Chopra Center for Wellbeing, the organization founded by mind-body health expert Dr. Deepak Chopra. The company celebrated the product's launch in front of nearly 1,500 people at Zrii's Global Leadership Academy in Panama City, Panama. The event was the largest qualifying event in the history of the company – a reflection of Zrii's continued growth and success around the world.
Zrii was founded in 2008 with the goal of helping people learn how to live without limits. From life-changing opportunities for personal and financial success, to premium-quality products that support an active lifestyle, Zrii is empowering people to make their dreams come true all over the world.
Zrii is proud to have partnered with the world-renowned Chopra Center for Wellbeing, headed by Dr. Deepak Chopra, and bestselling author Chris Gardner, to people across the United States, Canada, Australia, New Zealand, Malaysia, and Central and South America.