Laguna Blends Appoints New President of US Subsidiary
November 3, 2015
By Team Business For Home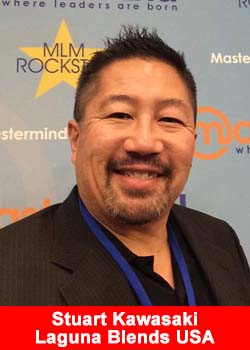 Laguna Blends Inc. announced that Stuart Kawasaki has been appointed as President of Laguna Blends (USA) a US subsidiary of the Company, replacing Stuart Gray.
Stuart Kawasaki has been involved in the multilevel marketing industry since 1988, with extensive hands-on experience in all aspects of corporate and business development, event management, product and field development as well as overall financial and operational responsibility. His corporate experience has ranged from ground-up startups to billion dollar companies and has initiated and grown operations in 19 countries around the world. Currently the principal at BeeCubed, a business and management consultancy that assists companies in all phases of starting up, building, reorganization and crisis management. Industry niches include direct sales/network marketing, retail/wholesale and services-oriented companies.
I am thrilled to be a part of Laguna Blends because of the diverse and talented executive team, cutting edge products, marketing technology that will change the way network marketing is done, and most importantly, its core values, states Kawasaki.
Stuart Gray will remain on as a director, CEO, and CFO of Laguna Blends (USA) Inc. as well as President, CEO, CFO and a director of Laguna Blends Inc. The Company also announces the appointment of Negar Adam, who is also Laguna's corporate secretary, to the board of directors. Ms. Adam replaces Glenn Little who resigned as a director.
Ms. Adam has been the President of All Seasons Consulting Ltd., a private company which provides consulting services to public companies, since February 1999. Ms. Adam has also served as a Director and Officer of several Canadian public companies.
About Laguna Blends Inc.
The Company's business is focused on the nutritional health benefits derived from hemp. Laguna is a network marketing company that intends to generate retail sales through independent affiliates. Affiliates utilize tools and technology that enable them to build an international business from their own home or while travelling. The first products to be launched are functional beverage products that provide high levels of protein and or nutrition.