Nature's Sunshine Expects To Get China License In 2016
November 4, 2015
By Team Business For Home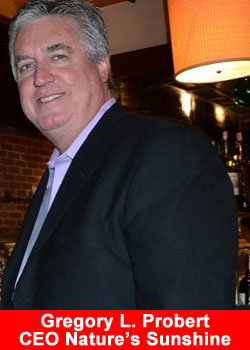 Nature's Sunshine Products, Inc. a leading natural health and wellness company engaged in the manufacture and direct selling of nutritional and personal care products, today reported its financial results for the third quarter ended September 30, 2015.
Third Quarter 2015 Financial Highlights
Net sales revenue of $79.6 million, decreased 14.8% compared to $93.4 million in the third quarter of 2014.




Net income from continuing operations was $1.6 million, or $0.08 per diluted common share, compared to $5.1 million, or $0.29 per diluted common share, in the third quarter of 2014.




Adjusted EBITDA was $5.5 million compared to $7.7 million in the third quarter of 2014.
While our third quarter results were softer on the whole, we were very encouraged with NSP United States and NSP Canada both posting their fifth consecutive quarters of year-over-year local currency sales growth, commented Gregory L. Probert, Chairman and Chief Executive Officer.
This growth was primarily fueled by continued progress with our IN.FORM business model, key retail account management along with the successful adoption of new products launched at the Leaders Conference and Convention in April. As a result, we recognized a key milestone during the quarter with existing members and new member sign-ups in NSP U.S. both posting year-over-year growth for the first time in over two years.
Mr. Probert continued, Our top-line, both as reported and in local currency, declined during the quarter primarily as a result of the ongoing challenges in NSP Russia, Central and Eastern Europe associated with political unrest in Ukraine and Russia and unfavorable currency headwinds. In an effort to strengthen our Distributor base in the region, we have launched various new product kits that have been very well received and are priced in a manner to support Distributor advancement as sales are made. Despite the uncertainty, we feel well-positioned to stimulate growth in the region with the support of our local partner once the situation steadies.
Further suppressing growth during the quarter was performance at Synergy driven by continued softness in North America and Korea, and to a lesser extent in Europe, which was partially offset by improvements in Japan and Indonesia. To reignite growth in Synergy, we are intently focused on unifying our multiple product strategies across all regions with the goal of achieving a more cohesive sales method focused detox, weight management and a daily habit of health, added Mr. Probert.
Mr. Probert concluded, Our entry into China is progressing on track and we remain hopeful we can secure our direct selling license in 2016. We made significant traction towards this goal with the grand opening of our new Shanghai office, which will serve as the Nature's Sunshine Products' headquarters in China, in addition to several key new hires to help support our successful launch in the region. On the product side, we designed new product packaging to achieve a premium look and feel as well as continued the process for general food importation and blue cap registration for select direct selling products. We are very excited to enter China and will update our progress on this front in the coming quarters.