Tony And Sarah Zolecki Achieve Elite 3 Rank At Modere
November 20, 2015
By Team Business For Home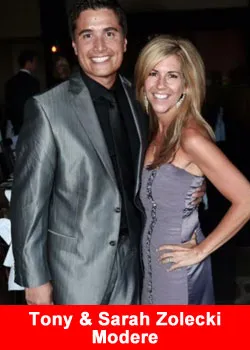 Network marketing changed Tony and Sarah Zolecki's life more than 10 years ago, and not just because it gave them financial freedom. These two visionaries met and fell in love more than 10 years ago at a network marketing event.
From that moment 10 years ago, these two have been an unstoppable team. Their incredible drive and teamwork are evidenced by the amazing success they have had as they climb the ranks at Modere, hitting Elite 3 in October, the highest rank currently possible to hit at Modere.
"The Zoleckis caught our vision for social retail from the very beginning and helped to shape it as the new model for networking and customer acquisition," said Justin Serra, General Manager of Modere. "As people and leaders, they embody what it means to be successful in business and in life. We're so privileged to have them at Modere and love watching their team continue to grow."
The first time the Zoleckis heard about Modere, they knew it made sense. Not only does it allow them to create a healthy home for them to raise their children in, it also gives them the possibility for the promise of network marketing – true residual income. Combining the power of a true customer-base with incredible products and an unparalleled compensation plan, the Zoleckis have found success with Modere.
"I love the fact that it's a home for everyone," says Sarah Zolecki. "No matter where you come from, everybody has a real shot at success, however they define it. Whether it's an extra $50 a month or $50,000 a month, it's possible with Modere. So many people on our team are winning. If they want to focus on building customers, they have a home here.
If they want to build a team of networkers, they have a home here. We believe that when people feel at home, they can authentically be themselves, which in turn creates success with Modere's social retail model."
Now that they've hit Elite 3, the Zoleckis are working to help their team continue to grow. Tony is currently traveling through several Asian countries helping launch Modere in countries like Thailand and Singapore and Malaysia.
"We are attracting first-class people to Modere because of the incredible customer-acquisition program we have here," said Tony Zolecki. "Our team is full of high-caliber people who have seen the power of Modere and living clean."
It's about more than just inspiring their friends though. The Zoleckis help those around them dream big, and then achieve even bigger.
"We believe that every person you meet will enrich your life either professionally or personally," says Sarah Zolecki. "It's the relationships and people that have walked into our lives that have made the difference for us."
Modere is a portfolio company of Z Capital Partners, L.L.C.
About Modere
Modere offers a diverse product suite ranging from beauty and nutritional supplements to home care, sports nutrition, and anti-aging. We offer a category-leading portfolio of lifestyle essentials—personal care, health & wellness, and household products that are equal parts safe, high performing, and beautifully designed. Our formulas are tested and proven, and have been trusted by customers around the world for more than 25 years.
At Modere, we create more than just products—we create meaningful experiences. Modere believes modern health involves Living Clean: pure nutrition, a clean environment, and safe skin and hair care. Modere brings a holistic approach to well-being and its products reflect a commitment to excellence and innovation, with tested formulas proven around the globe for more than 25 years. For more info please visit www.modere.com
About Z Capital Partners
Z Capital Group, L.L.C. and its subsidiaries (Z Capital) are leading global alternative investment managers with approximately $2.3 billion of regulatory assets under management having offices in New York, NY; Lake Forest, IL; and Zurich, Switzerland.
Z Capital manages opportunistic, value-oriented private equity and credit funds. Z Capital operates in an integrated manner, yet has distinct business platforms of private equity and credit funds. Our principals have applied this investment philosophy for over 20 years, deploying capital across the balance sheet of industry leading businesses and seeking to create value for our investors throughout economic cycles.
Z Capital's investors include prominent global sovereign wealth funds, endowments, pension funds, insurance companies, foundations, family offices, and other institutions in North America, Europe, Asia, Africa and the Middle East. For more info please visit: www.zcapgroup.net