Top Industry Leader Ahmed Morad Joins DubLi
November 25, 2015
By Team Business For Home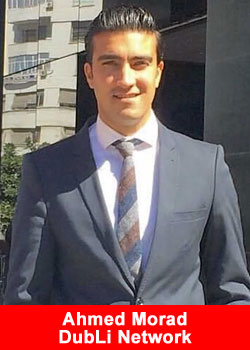 DubLi Network, the world's largest e-commerce network marketing company through its Cash Back shopping platform, DubLi.com, today announced that Ahmed Emad El Din Morad has joined DubLi Network.
Mr. Morad, 31, joins DubLi Network after previously being with a leading Network Marketing Company, where he built a team of approximately 60,000 across Egypt, Morocco, the United Arab Emirates and the United Kingdom.
Within the industry, he is known for hosting events in excess of 100,000 attendees. Mr. Morad joined the network marketing industry in 2009, and has since benefited from the unlimited potential this marketing segment offers entrepreneurs in realizing their dreams and ambitions. Prior to joining the industry, he studied electrical engineering and was the owner of several sleep-related product shops. Mr. Morad is based in Egypt.
"In the network marketing industry, a visionary leadership team and solid products are the key drivers for success," said Mr. Morad.
"Unlike others in this industry, DubLi Network offers Business Associates a product with universal appeal – helping shoppers from any country or background save money on everyday purchases. DubLi Network is a rewarding business opportunity and I believe that all true networkers can and will see the same."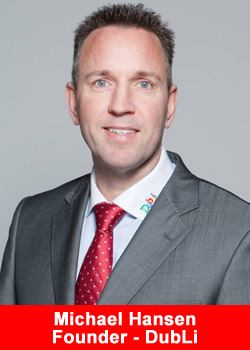 Commenting on today's announcement, Michael Hansen, Founder and Executive Vice President of Business Development of DubLi Network, stated,
"Having Ahmed join the DubLi Network team is another proof point behind the company's foundation, reputation and future prospects.
DubLi Network is able to attract leaders such as Ahmed because of its valuable product, attractive earning potential and growing position in the e-commerce and network marketing sectors. DubLi Network combines the valuable networking marketing business model with global digitalization of goods and services that rewards consumers around the world, making a perfect marriage of an online and off-line strategy."
DubLi Network is a sophisticated, e-commerce network marketing company based on Cash Back shopping and travel, and the global leader in providing e-business network marketing opportunities to Independent Business Associates in almost 100 countries.
DubLi Network offers Business Associates an opportunity to earn an income by marketing its online Cash Back shopping portal and selling premium memberships through DubLi.com. For more information, visit www.dublinetwork.com.
About DubLi.com
DubLi.com is a global leader in online shopping and Cash Back rewards to customers worldwide. DubLi is emerging as a leading e-commerce platform offered through network marketing, currently serving customers in more than 120 countries. E-shoppers can browse through different categories, which feature international and local brands, travel, coupons, discounts and vouchers.
DubLi has adapted its multilingual and multi-regional e-commerce platform to serve 12 international markets in local language and currency to strengthen its global e-commerce presence and encourage sales in its countries of operation. Depending on the market, DubLi.com features the world's most popular brands including Amazon.in, Walmart, Nike, Hotels.com, Zalando, Groupon and Expedia.
Since its founding by Michael Hansen in 2003, DubLi has offered entrepreneurs the opportunity to create their own distributor organization by joining the direct sales company, DubLi Network (dublinetwork.com). The global network of independent distributors generates traffic and the resulting sales to DubLi.com as well as markets a variety of memberships.
DubLi and DubLi Network are subsidiaries of Ominto, Inc. and are headquartered in Seattle, Washington.