Direct Selling Market Trend In 2016 – Faster Commissions Payout
December 30, 2015
By Team Business For Home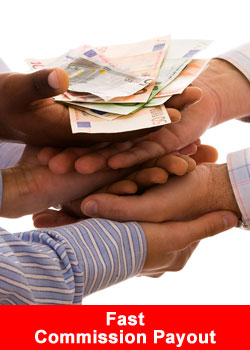 A market trend in Direct Selling is the trend towards faster commission payouts using e-Wallets and Debit Cards.
The Direct Selling companies today that pay out instantly or within a few days, keep their distributors highly motivated which results in generating additional company revenue.
Waiting for 2 to 6 weeks to receive commission has become so "1990"….
Those companies still on traditional slow payouts with high fees, or even paper checks are dramatically losing distributors and market share…. Outside the USA a papercheck is difficult to cash and only with very high fees.
There are two main reasons why Direct Selling companies lose revenue:
1. They cannot provide their product/ service in a timely fashion.
2. They do not pay commission fast.
Field leaders and corporate executives should check out i-Payout. Serving some of the largest Direct Selling companies globally, they process almost $1 billion dollars in commission to 8.5 million Direct Sellers.
I-Payout, a full solution payment provider, is acutely aware of the urgent need to pay commissions quickly and has provided options that you can "set and forget" about. The ideal solution is to choose which way you want to be paid and every time you get paid, your commissions are on their way in a matter of hours.
No debit card fees, no waiting for your checks to clear and no delays.
Although it looks complex, once you have chosen the method of payment, you can then forget about your commission payments and simply choose how to receive them using i-Payout:
Existing bank accounts anywhere is the world.
Existing debit or credit cards.
Existing China Union Pay cards (Asia)
Existing local payment methods such as Quii, Sofort etc.
For the unbanked, i-Payout has convenience cards and gift cards.
Traditional checks
About i-Payout
i-Payout is a leading provider of global solutions for multi-level marketing companies, direct sales associations, unions and other industries. Established in 2007 and based in the USA, the company has a long-standing reputation as a trusted and respected partner providing consistent service and flexibility. i-Payout is dedicated to preserving your dream.
Please watch this 3-minute feature video: https://goo.gl/nxApUo
Contact: Direct Selling Business Development – Toll free USA (866) 312-8744 Ext. 8800 – Int'l callers (954) 513-3150 Ext.8800 – Email: [email protected]