Iranians Turn To Direct Sales In Face Of Economic Downturn
December 1, 2015
By Team Business For Home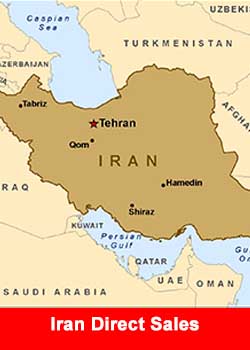 The Guardian newspaper published an article about the increasing popularity of direct sales opportunities among young Iranians trying to cope with the economic downturn in the country. However, experts warn of the dangers of illegal pyramid schemes taking advantage of the situation.
It was a cold rainy day. A woman in her late 30s waited on the platform for the next subway train. She held her three-year-old daughter, wrapped in a blanket, underneath her long black chador to protect her from the wind. The train arrived and she got in.
Maryam is a mother of two. Her husband is self-employed and she works as a caretaker in a kindergarten, taking her younger child everyday with her to work.
"With the money we earn, we must live day by day," she told me on the train. "We can never buy a flat and stop renting. That's why I've recently joined a multi-level marketing firm where I work in the evenings. I'm hopeful that in the coming two or three years, I'll be able to buy a flat so that my kids can have a comfortable life."
As the train approached her stop and as she prepared to leave, she slipped me her phone number. "If you want a lucrative job and to make your dreams come true, contact me. I can take you to our company and you can also become a marketer."
In Iran, where many are struggling to make ends meet, multi-level marketing companies promise a better life. Regardless of the warnings from economists about these pledges being unrealistic, the dream of becoming rich quickly is alluring for many.
The business model of multi-level marketing – also known as network marketing – is simple. The marketer makes money by buying a product from a company, and selling it on to personal contacts. With most multi-level marketing businesses, a marketer is also encouraged to recruit other sales representatives and receives an additional commission on the sales of those he or she has recruited.
This model began to emerge in Iran around 2005 and became popular in a few years. Currently there are 14 active legal multi-level marketing companies in Iran with nearly 150 branches.
Shortly after I met Maryam, I went to Biz, a multi-level marketing company, for a presentation aimed at potential recruits. "Multi-level marketing is the third most profitable job in the world," a young marketer told a room packed mainly with other young people.
According to the presenter, Biz is the biggest company of its kind in Iran with 30 branches and 150,000 marketers across the country. It sells a variety of products, including cosmetics, kitchen supplies, spices and bedroom accessories.
The marketer explained that to begin a person should spend more than $300 in buying products from the company. By selling each product to the next buyer, the marketer would gain a 10-12% commission.
"But if you want to profit more, you need to recruit more marketers and get commission from their purchases as well," he added. "If you follow the instructions, by working two to three hours a day, in two to four years you will earn a significant amount of money, something that is not imaginable in any other career."
Many economists disapprove of multi-level marketing, with critics including prominent parliamentary deputies from the economy, industry and legal commissions. In an interview, an academic economist in Tehran told me multi-levelling marketing is a "scam" and that "such hocus-pocus businesses usually rise and grow in a poor economy where people are suffering financially".
Hence their recent appeal: "Iran's economic downturn over the past few years, a high unemployment rate, low incomes and inflation, all have encouraged people to seek such false jobs," the economist said. "From all those people who join the multi-level marketing businesses, only a few at the top of the pyramid profit. The rest are not going to make much."
In essence, he insisted, multi-level marketing is the same as pyramid selling. But there is a difference, albeit not a clear one: in a pyramid scheme, a member's revenue is based primarily on recruiting others into the network rather than on selling a product.
Pyramid scheme companies began gaining popularity in Iran around 2000. In 2006, the government banned their activities, as had already been done in the United States and the United Kingdom. Many companies were closed and several people arrested.
Unlike pyramid scheme companies, multi-level marketing firms are legal. They are recognised by Iran's Ministry of Industry, Mines and Trade on the grounds that their main profit comes from selling a product rather than recruiting others.
During his presentation, the young marketer reinforced this point. "We have a licence," he said. "We pay taxes to the government, therefore there is no way the government is going to shut us down."

But the economist said multi-level marketing companies, whatever their status, are engaged in shabby activities. "Yes, the companies get licences, but what they really do usually goes beyond the legal framework," he alleged.
Fifteen multi-level marketing firms are listed by the ministry as legal with one suspended after its licence was revoked in August over "widespread violations". Five of those listed have received at least one warning. Biz has had four, the highest of any.
But multi-level marketing still appeals to many Iranians, especially the young. "I studied civil engineering, but I haven't been able to find a job relevant to my degree with a reasonable income," the young Biz presenter told his audience of hopefuls. "For 20 months I've worked as a marketer here. Until now I have recruited 400 people. Maybe I am still not earning my desired money, but I'm not going to stop believing. I spend all my time in this company and hopefully in one or two years I am going to earn as much as I need."
The economist feels such dreams will flounder. "I think as the activities of these companies grow, the government is going to tighten its grip on them and finally shut them down," he said. "In the end we are going to have youth who haven't reached their goals and are extremely disillusioned."