Plexus Worldwide Appoints Mike Green As CIO
December 8, 2015
By Team Business For Home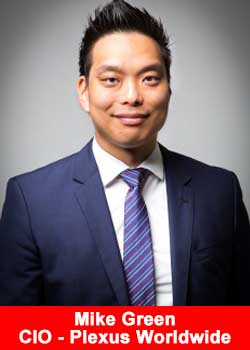 Plexus Worldwide, a leading direct-marketing weight-loss and health-supplement seller, announced that Mike Green has joined the company as Chief Information Officer. In his new role, Green will guide the company's Information Technology team and will work with other C-Suite executives to help drive business initiatives.
"We're very excited to add Mike's extensive IT experience within the network marketing industry to Plexus' talented team," Tarl Robinson, CEO of Plexus Worldwide, said. "Mike will play an essential role as technology continues to play a key role in Plexus Worldwide's growth and expansion."
"Plexus has quickly earned a very positive reputation within the direct sales industry thanks to its well-respected executive team and the company's rapid growth and focus on its Ambassadors," Green said. "I'm thrilled to join Plexus' talented team and to lead the IT department as Plexus expands its initiatives to further help the company and its Ambassadors to succeed."
Green is respected as a decisive leader with a hands-on management style focused on building and motivating IT teams. He brings more than 14 years of expertise driving and implementing quality technology solutions across the globe while providing leadership in several Information Technology functions including software development, web development, ERP, WMS, IT operations, help desk and project management.
He joins Plexus Worldwide from Origami Owl where he was the Vice President of Information Technology. There he formed the IT department for this Arizona-based jewelry startup, creating a reporting structure with distinct roles and responsibilities to support business initiatives. He helped that organization to grow into a $200+ million company.
Previously he was Vice President of Information Technology and Interim CIO at Melaleuca Inc. where he provided leadership, strategic vision and direction for all IT operations and initiatives for the global distributor, direct sales and retail company. Among his responsibilities were controlling all global IT initiatives (software and hardware) for the company and managing direct reports with responsibilities domestically and globally.
"Mike brings a heightened focus and prioritization that will drive our IT team and benefit Plexus," Alec Clark, Plexus Chief Marketing Officer, said. "His history of success at network marketing sales organizations will bridge the gap between our business goals and IT initiatives while spearheading the design of globally solid, reliable systems from concept to production."