XANGO President Leslie Gallacher Wins Stevie Award
December 9, 2015
By Team Business For Home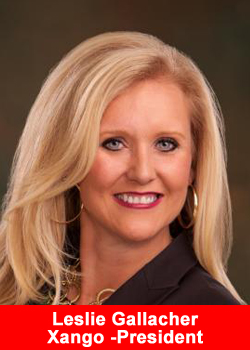 XANGO Global President Leslie A. Gallacher has been selected as an Executive of the Year award winner in the 2015 Stevie Awards for Women in Business Program. Promoted to company president earlier this year, Gallacher has impacted nearly every function of XANGO's business since 2004, leveraging her experience to drive new company growth and expansion as the firm enters its 14th year of operations. XANGO is a global wellness and direct sales leader doing business on six continents.
We're thrilled for Leslie to receive this well-deserved recognition of the substantial and lasting impacts that her leadership has on our business and the communities we touch, said XANGO CEO and Chairman Aaron Garrity. Leslie is strategic, hard-working and committed to ensuring our brand values permeate our company culture. She embodies the very best of the many women leaders who are empowered by XANGO to succeed.
In its 12th year, the Women in Business awards are the world's top honors for female entrepreneurs, executives, employees and the organizations they run. All individuals and organizations worldwide are eligible to submit nominations – public and private, for-profit and non-profit, large and small. The 2015 awards received entries from 31 nations and territories.
We are again humbled by the accomplishments of so many high-achieving women in this program, said Michael Gallagher, founder and president of the Stevie Awards. Their work is an inspiration to girls and women around the world who dream of starting and growing a business, managing a leading company, or improving their community.
More than 1,300 nominations from organizations of all sizes and in virtually every industry were submitted for this year's awards. Stevie Award winners were selected by more than 160 executives worldwide who participated in the judging process this year.
I'm honored to be a recipient of a Stevie Executive of the Year Award, said Gallacher. I'm invigorated to work each day with the founders, employees and distributors of XANGO as we strive together to improve the health and financial wellness of the communities we serve, to help people reach their dreams, and to make the world a better place.
About XANGO, LLC
A leading global nutrition company, XANGO, LLC, is a recognized leader in health and wellness products. Currently expanding into a wider range of botanicals, XANGO was the first company to market a premium mangosteen beverage, XANGO® Juice, to consumers worldwide. XANGO is privately owned and powered by a global network of more than 2 million independent distributors in the U.S. and more than 40 international markets, including Canada, Mexico, Australia, Japan, Russia, South Africa and more. For details, visit www.xango.com.