Ava Anderson Out Of Business
January 26, 2016
By Team Business For Home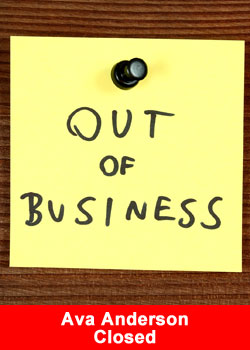 According to a message to the distributors:
Dear Ava Anderson Customers,
Thank you for your patience – the Ava Anderson website and shopping cart are temporarily unavailable and will be live again soon to purchase final approved products.
The Anderson Family has made the difficult decision to end their 6-year journey by closing what you have come to know as Ava Anderson LLC. (Please read their heartfelt message below).
However, the Management Team at our RI-based home office will pick up the torch and carry it forward. We are diligently working to continue to offer the great products you have experienced over the past 6 years under a new brand. It is our intention to transfer all the great aspects of the company you currently know.
We appreciate your commitment and patience as we work through this transition.
(A message from the Anderson Family)
We are a family who has supported our daughter, in a sincere and unselfish mission to educate everyone about this important issue, and know that we have made a difference, with the support of our Consultants and all of you. Our amazing and dedicated team has worked tirelessly for all of you. We have done everything in this business from sourcing and manufacturing products, to the way we pay and treat each and every team member in our home office and each Ava Anderson Consultant with the highest of integrity always!
We hope you will be able to understand that our daughter has been under attack, online and in person, and has been tethered to social media for years, attempting to protect the brand and the company she cares so much for, as well as for each of you. She (and our family and team) have always felt a tremendous responsibility to all of you and we have done our very best to fulfill that.
We simply cannot see any possible happiness or peace for her future or our family being treated this way. We have tolerated it for years to build this company, but have lost the ability to battle and continue to sustain the barrage daily. We know your hearts and believe you would take this same action if your child or family were being treated this way and could no longer function.
We are so sorry for this, the most difficult decision of our lives, but we can see no other way to continue.
With gratitude, The Anderson Family