JD And Ronni Phillips Achieve Elite 3 At Modere
January 12, 2016
By Team Business For Home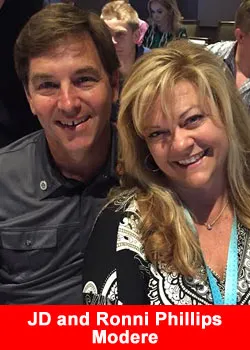 JD and Ronni Phillips are celebrating their 10-year anniversary in network marketing and they are doing so at their new home, Modere, where they have achieved the highest rank possible of Elite 3 Social Marketer.
"Years ago life was jam packed with raising twins, full-time careers, and community involvement," said Ronnie Phillips. "A friend approached us about trying some product and considering the possibility of building a network.
We knew network marketing would be something we could only do part-time, so we created a plan to build this business in the cracks of our life."
The secret to their success was to schedule the time to build their business like most people would schedule an appointment with a doctor or hairdresser. Their advancement to Modere's highest Elite rank is a testament to the fact that their system works and their business is truly built on teamwork and duplication.
"Everything we did; events, three-way calls, trainings, it was all very intentional," said JD Phillips. "We knew that by running this business on a specific time schedule, we could set an example of how to be successful on a part-time basis.
This also helped our friends and family that joined us to remove the excuse of 'not enough time'. We shared with them the value of prioritizing the daily revenue producing activities in this business. We constantly reminded the team that schedule gives you freedom."
The Phillips found Modere after an exhaustive search for a company that would benefit their entire team and fit their most important criteria.
"We needed to find a company that offered a customer focused mission, one that manufactured their own products and had strong corporate leadership who had the resources to execute on cutting edge ideas," said JD Phillips.
"We needed to find a place with like-minded people who understood the power of edification. Modere checked the box on all of our criteria and then came the trump card: Social Retail … their incredible, disruptive model."
The Phillips found Social Retail to be extremely attractive because it was a business model that was the first of its kind in the marketplace. This would offer each member of their team the opportunity to get a fast start. Ronni would make sure to add that what makes sharing the products so easy is that they are high quality, effective and safe.
"We bring people opportunity and hope," said JD Phillips. "Modere is a vehicle that allows people to improve their life physically by using the products, improve their life financially by sharing the business, or both."
It's much more than the income opportunity for the Phillips; they say they love working together to build a strong team through relationships. "We want to leave the world better than we found it," said JD Phillips. "We always want to give more than we take and we always try to find a way to let people know we appreciate them allowing us to be part of their lives."
About Modere
Modere offers a category-leading portfolio of lifestyle essentials— beauty & personal care, health & wellness, and household products that are equal parts safe, high performing, and beautifully designed. At Modere, we create more than just products—we create meaningful experiences.
We believe modern health involves Live Clean: pure nutrition, a clean environment, and safe skin and hair care. Modere brings a holistic approach to well-being and its products reflect a commitment to excellence and innovation, with tested formulas proven around the globe for more than 25 years.
About Z Capital Group
Z Capital Group, L.L.C. and its subsidiaries (Z Capital) are leading global alternative investment managers with approximately $2.3 billion of regulatory assets under management having offices in New York, NY; Lake Forest, IL; and Zurich, Switzerland.
Z Capital manages opportunistic, value-oriented private equity and credit funds. Z Capital operates in an integrated manner, yet has distinct business platforms of private equity and credit funds. Our principals have applied this investment philosophy for over 20 years, deploying capital across the balance sheet of industry leading businesses and seeking to create value for our investors throughout economic cycles.
Z Capital's investors include prominent global sovereign wealth funds, endowments, pension funds, insurance companies, foundations, family offices, and other institutions in North America, Europe, Asia, Africa and the Middle East. https://www.zcapgroup.net/