John and Nadya Melton Join Modere, Achieve Elite 1
January 17, 2016
By Team Business For Home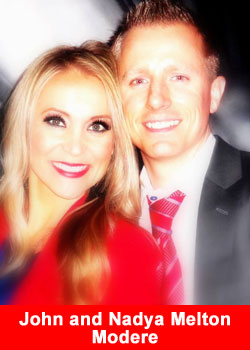 When John Melton talks about understanding what it takes to be successful at network marketing, it rings true because he's had to work hard to learn everything he knows now.
"When I first got introduced to network marketing I didn't have a lot of success, but I learned a lot," said John Melton. "I spent time with mentors, learned a lot about myself, how to overcome objections and how to be a professional network marketer."
Talking about overcoming hardships to find success, John's first network marketing company went out of business and he lost a lot of enthusiasm. Family health issues and other difficulties got in the way of his entrepreneurial dream, so he took a job in mortgages and found that the things he learned in network marketing were helping him excel in that field.
"After a few years in mortgages, I fired my boss and went full-time in network marketing," said John Melton.
"Now I'm a full-time network marketer and my wife and I use the skills we've learned to help others achieve their goals.
Now, the Melton's have found a network marketing home at Modere.
"I have a pretty good grasp as to what's out there as far as network marketing companies, so I was happy to find Modere and that they are doing it all differently," said John. "I really liked the executive leadership at Modere. They really understand network marketing. I love the fact that the products are clean and affordable and that we have so many different types of products that appeal to so many different demographics."
Talking about Modere I/D, the newest innovation in clean-living science from Modere, John says, "I'm not a skin care person, but my wife, Nadya, however, has tried every type of skin cream and anti-aging product out there. Name a company, she's tried it. She likes Modere and in fact, it's the only skin care line she uses now."
Along with incredible products, John and Nadya love the model of Social Retail found only at Modere.
"I can build an army, but what happens when the recruiting stops," asks John. "Your check drops off if it's based only on recruiting. However, if you have a true customer base, you can actually build a real walk-away income, and that's why I love Modere's focus on customers."
According to John, Nadya is the brains behind their success. He says, "There's no way I would be the man I am today without her. She is very good at what she does, she runs our online brand and is a big reason that we are able to have the success that we do."
"We try to give back and be a positive influence on the world," says John. "We try to pour our love into our kids as much as possible, if you are giving your children the love that they need, they'll grow up to be great leaders as well. I would love to know whether it was today or 100 years from now that we've affected people in a positive way by helping them live a better life, a life of abundance."
About Modere
Modere offers a category-leading portfolio of lifestyle essentials— beauty & personal care, health & wellness, and household products that are equal parts safe, high performing, and beautifully designed. At Modere, we create more than just products—we create meaningful experiences.
We believe modern health involves Live Clean: pure nutrition, a clean environment, and safe skin and hair care. Modere brings a holistic approach to well-being and its products reflect a commitment to excellence and innovation, with tested formulas proven around the globe for more than 25 years.
About Z Capital Group
Z Capital Group, L.L.C. and its subsidiaries (Z Capital) are leading global alternative investment managers with approximately $2.3 billion of regulatory assets under management having offices in New York, NY; Lake Forest, IL; and Zurich, Switzerland.
Z Capital manages opportunistic, value-oriented private equity and credit funds. Z Capital operates in an integrated manner, yet has distinct business platforms of private equity and credit funds. Our principals have applied this investment philosophy for over 20 years, deploying capital across the balance sheet of industry leading businesses and seeking to create value for our investors throughout economic cycles.
Z Capital's investors include prominent global sovereign wealth funds, endowments, pension funds, insurance companies, foundations, family offices, and other institutions in North America, Europe, Asia, Africa and the Middle East. https://www.zcapgroup.net/