Phil Gerdes Joins Modere, Achieves Elite One
January 23, 2016
By Team Business For Home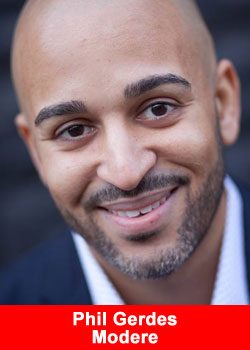 A born entrepreneur, Phil Gerdes has been designing his life to be centered around his family, even before he had his own family to support.
"My hobbies are my family," says Phil Gerdes. "It sounds corny, but it's the truth. Networking is the reason I have the ability to design my own life. I don't believe in doing anything just to do it, there has to be a purpose for it. I'm in direct sales for my family."
From the very beginning of his time in network marketing, Phil made it a point to focus on other people.
"I made a decision on New Year's Eve years ago that I was going to change my life and tie it all in to people," recalls Phil. "I said, 'I'm going to do everything for other people for one year straight.' I committed to doing the most extreme things for other people and a year and a half later I had completely changed my life."
Although he's had ups and downs in both his personal and professional life, Phil has never let those get in the way of his goals.
"I didn't walk into this business expecting this to be easy," said Phil Gerdes. "If I emotionally connect to the end game, then the roller coaster is just how I get to my goal. I tell everyone that there is an amazing power inside of people that everyone can accomplish anything in their life that they set out to do."
He applies this positive outlook on life to building his team at Modere too.
"There were three things that attracted me to Modere, the common sense of the products, the marketing plan for an authentic customer experience, and the compensation plan," said Phil Gerdes. "I love that because of the customer acquisition focus we are paying people for what they are worth at Modere."
In his first months at Modere, Phil has achieved the rank of Elite 1 and continues to grow every day. Continuing his focus on others, Phil's goals and future plans with Modere are all focused on making sure his team hits their goals.
"We've made the decision to completely dominate all things Modere," he said. "We're excited to do more than we ever did before. The more we share it the better."
About Modere
Modere offers a category-leading portfolio of lifestyle essentials— beauty & personal care, health & wellness, and household products that are equal parts safe, high performing, and beautifully designed. At Modere, we create more than just products—we create meaningful experiences.
We believe modern health involves Live Clean: pure nutrition, a clean environment, and safe skin and hair care. Modere brings a holistic approach to well-being and its products reflect a commitment to excellence and innovation, with tested formulas proven around the globe for more than 25 years.
About Z Capital Group
Z Capital Group, L.L.C. and its subsidiaries (Z Capital) are leading global alternative investment managers with approximately $2.3 billion of regulatory assets under management having offices in New York, NY; Lake Forest, IL; and Zurich, Switzerland.
Z Capital manages opportunistic, value-oriented private equity and credit funds. Z Capital operates in an integrated manner, yet has distinct business platforms of private equity and credit funds. Our principals have applied this investment philosophy for over 20 years, deploying capital across the balance sheet of industry leading businesses and seeking to create value for our investors throughout economic cycles.
Z Capital's investors include prominent global sovereign wealth funds, endowments, pension funds, insurance companies, foundations, family offices, and other institutions in North America, Europe, Asia, Africa and the Middle East.