Talk Fusion Reveals Thrilling New 30 Day FREE TRIAL Program
January 30, 2016
By Nicole Dunkley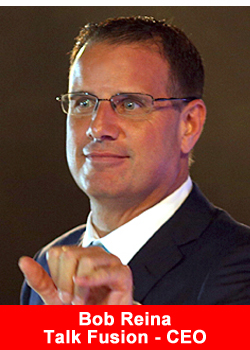 Talk Fusion has announced a dramatic and exciting shift in their business paradigm with the upcoming introduction of a "Try Before You Buy" 30 Day Free Trial program.
Potential Customers will be able to try the entire range of Talk Fusion's All-in-One Video Marketing Solution for 30 days risk free – without any contracts, commitments, or credit card information. These will be the full versions of Talk Fusion's Video Email, Video Newsletters, Live Meetings, Video Chat and Sign-up Form products, and Free Trial users will get to experience all of their features and functionality.
"Our goal is to put Talk Fusion's products into as many hands as possible across the world," said Talk Fusion Founder & CEO Bob Reina. "We will allow any person, any business – no matter what size, from home-based to small, medium or large companies – to try every single one of our products for absolutely free for 30 days. It's free and it's instant."
As soon a Free Trial user clicks the "Try It" button, they will get instant access to Talk Fusion's "on demand" video marketing products, all delivered online. Signing up for the Free Trial will kick off with a series of highly informative marketing emails that give users helpful links, tutorials, statistics, and resources so they can get the most out of their 30 day free trial. "We want to help them try out everything," said Reina. "We know when people try the product, they love it, and want to buy it."
Free Trial users loving the products and looking to convert into paying customers will also love the cost-effective pricing structure that will revolutionize the industry. Three affordable "choose what you use" plans will be available, starting at only $25 a month (or roughly .83 cents a day) up to $75 a month.
The $75/month plan will allow the ultimate in customization. It not only includes the ability to private label Video Email, but comes with a free custom Video Email template created by Talk Fusion's world-class art department every month, designed to the customer's specifications. Custom templates alone can cost upwards of $599 each at other companies; Talk Fusion provides a new one monthly, included free in the $75 package.
"No other single company offers all of the products that we provide in one Video Marketing Solution," explained Reina. "Even adding together similar products, it would cost almost $1000/month to come anywhere close to what we offer for only $75/month. There is just no comparison in the world to the value that we bring."
The Free Trial initiative has also given the company the opportunity to focus their own marketing and do some re-branding. "We're so much more than just 'video communication products' and that's why we now call them an 'All-in-One Video Marketing Solution.' That really is the perfect way to describe our products. It lets businesses start to understand what we do and the power of personalized video marketing. Now they can see it in action for themselves with a 30 Day Free Trial—risk-free—and find how Talk Fusion can help them build stronger relationships with their customers and how that can translate into sales and revenue."
The 30 Day Free Trial program is also an ideal addition to Talk Fusion's corporate philosophy of "Giving Back." Not only can Associates give potential customers a fully functional Free Trial to test for 30 days, they also receive a free Custom Account that they can donate to the charity or non-profit organization of their choice. "That's our best product plan," said Reina, "which includes the free monthly custom Video Email template."
The free Custom Account for charities will be available to organizations worldwide. "In talking to our leadership, we're already hearing plans for offering free custom accounts to domestic violence shelters, child abuse organizations, cancer charities, and animal shelters," Reina said. "We have a history of giving back in the community and around the world, and I want to empower all of our Associates to dream big and be able to do the same thing."
The enthusiasm for the new Free Trial program has quickly spread throughout the company. "This is the most exciting time in the 8 year history of Talk Fusion," said Reina. "We started on this project a little over a year ago. It's been a huge endeavor; literally the entire company has been involved in its creation, from IT to marketing to upper level management to support to video and our animators… everybody."
Work continues on the infrastructure to make the entire Free Trial process seamless and effortless for Talk Fusion Associates, their prospective customers, product users and charity accounts. While significant progress has already been made and the program is expected to launch soon, news of Free Trials has already caused a significant shift in momentum never seen before.
"Talk Fusion has always been a company on the move," said Grand Blue Diamond Ron Wright after the global broadcast announcing the Free Trial program. "Now we are creating a frenzy with our upcoming Free Trials program. The impact will be tremendous around the world."
ABOUT TALK FUSION
A global leader in Video Communication Products, Talk Fusion is dedicated to changing lives through unmatched life-sharing solutions provided by proprietary, patent-pending video technology.
Talk Fusion's innovative products are marketed person-to-person by independent Associates in more than 140 countries.
Founded in 2007 by CEO Bob Reina, Talk Fusion introduced the world's first Instant Pay Compensation Plan. Talk Fusion adheres to the highest ethical business practices and is a member of the prestigious Direct Selling Association (DSA). Reina firmly believes that "with great success comes greater responsibility."
Talk Fusion fosters a strong commitment to Giving Back to friends, family, communities, and animal charities across the world to produce a positive global change. Learn more at www.TalkFusion.com and "Like" Talk Fusion at www.facebook.com/TalkFusion.
Income Disclaimer:
Any earnings portrayed in any Talk Fusion marketing materials are not necessarily representative of the income, if any, that a Talk Fusion Associate can or will earn through his or her participation in the Talk Fusion Instant Pay Compensation Plan. All references to income, implied or stated, throughout the Talk Fusion Instant Pay Compensation Plan are for illustrative purposes only. These figures should not be considered as guarantees or projections of your actual earnings or profits. Talk Fusion does NOT guarantee any level of income or earnings to any Associate; any representation or guarantee of earnings would be misleading. The purchase of a Talk Fusion Product Package is completely optional and is not required for an Associate to participate in the Talk Fusion Instant Pay Compensation Plan.