Full Version Of Talk Fusion Video Chat Goes Live
February 17, 2016
By Nicole Dunkley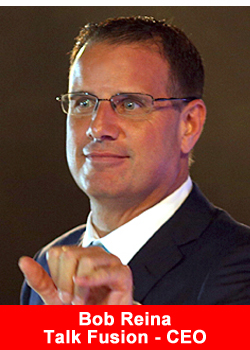 Talk Fusion has spurred excitement once again: industry-exclusive Video Chat is out of beta and now live for Customers and Associates worldwide. The full version offers a substantial advantage over the competition with cutting-edge technology and performance enhancements Customers are sure to love.
Users can communicate from any device to any device whether on a smartphone, PC or tablet. Plus, there's no account sign-up or registration required; just an Internet connection, webcam, and browser.
The process to host and join a chat is simple: Talk Fusion Customers create a chat room and then email, text or copy and paste the invitation link to anyone in the world. Unlike similar products on the market, Video Chat doesn't discriminate against device preferences; Android and iOS enthusiasts can now communicate with each other directly through one easy-to-use product. Smartphone users can head over to the iTunes or Google Play Stores to download the app and they'll be ready to start talking in real-time. PC users can simply click on the link and they're ready to go.
Blue Diamond Leslie Brown is already sold on the full version: "My new favorite way to communicate! Nothing comes close to the clarity and quality. Huge potential applications for Video Chat!"
Customers will love the convenience of instant, real-time communication in their hands—whether they're on the go or chatting with someone across the globe, Video Chat allows them to talk face-to-face with anyone, anywhere, anytime. Be it client meetings, team collaborations or impromptu conversations, Video Chat is the go-to Video Marketing Solution for business and personal communication.
"I am constantly impressed with this company, our cutting-edge products, and Bob Reina's vision! But this knocks it out of the park! Amazing clarity and I just love how all the products seamlessly work together to help us all grow!" said Diamond Janice Silva.
Features like on-screen text chat offer convenience while options to name and lock rooms provide added privacy and security. Clearer, faster, smarter: Video Chat has it all. Talk Fusion has long been known as a global leader in video communication, but with the full version release of its latest product, it's once again redefining the world of direct selling. Visitors to TalkFusion.com can try a demo version of Video Chat and will soon be able to demo all of Talk Fusion's Video Marketing Solution products when the company unveils its upcoming 30 Day Free Trial program to the public.
ABOUT TALK FUSION
A global leader in video marketing solutions, Talk Fusion is dedicated to helping grow businesses and change lives through proprietary, patent-pending video technology.
Talk Fusion's innovative products are marketed person-to-person by independent Associates in more than 140 countries.
Established in 2007 by Founder & CEO Bob Reina, Talk Fusion introduced the world's first Instant Pay Compensation Plan. Talk Fusion adheres to the highest ethical business practices and is a member of the prestigious Direct Selling Association (DSA). Reina firmly believes that "with great success comes greater responsibility."
Talk Fusion fosters a strong commitment to Giving Back to family, friends, communities, and animal charities across the world to produce a positive global change. Learn more at www.TalkFusion.com and "Like" Talk Fusion at www.facebook.com/TalkFusion.