Grand Blue Diamonds Johnny And Sophie Chung Return To Talk Fusion
February 4, 2016
By Nicole Dunkley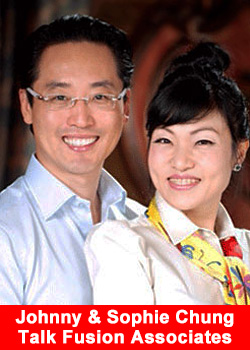 Over the past year, Talk Fusion has been quietly enhancing their business model to feature a revolutionary "Try Before You Buy" 30 Day Free Trial program. During that same time, something else revolutionary has been taking place, something almost unheard of in the network marketing industry: former top leaders have been returning to the company in record numbers.
In 2012, Independent Associates Johnny and Sophie Chung were experiencing noteworthy success at Talk Fusion; they were climbing the ranks quickly, and soon their achievements earned them the highly respected rank of Grand Blue Diamond. That gave them both the time freedom and financial freedom to pursue their dreams. It turned out that one of Sophie's dreams was to create a network company for musicians; they called it "the world's fastest artist discovery platform."
So they successfully followed that passion for several years. Now, after selling that technology and closing that chapter of their lives, they were eager to return to network marketing. "Sophie and I had a lot of options; we have a lot of friends in this space," said Johnny. "We were even offered partnership in other companies. But after carefully considering everything, we specifically chose to return to Talk Fusion."
The lure of the upcoming Free Trial program was certainly a factor in the choice. "It's a 'try before you buy era;' all technology on the internet is try before you buy. It's more digestible. There is less risk for people to engage with you," Johnny reasoned. "That means there's no reason for anyone to ever say no. We don't have to lose a prospective customer to uncertainty."
"Certainty" proved to be an even more key element in their decision to return. "We've been involved in the ownership side of network marketing before, so we look at opportunities differently than a regular networker," said Johnny. "They look at shiny things, at the newest things. I call that 'curb appeal…' like checking out houses in a neighborhood. I enjoy curb appeal, too, but these days—as a seasoned veteran—I'm much more interested in infrastructure. My conviction comes from my certainty—and I'm certain about Talk Fusion's infrastructure.
"What impresses me so much is that Founder & CEO Bob Reina has one of the greatest infrastructures that I've ever seen in the world. You have to be a very strong company to do global Instant Pay. Most people don't realize that."
The couple plans on taking full advantage of the international aspect of Instant Pay. Now that they have returned to Talk Fusion, Johnny and Sophie have set their sights on expanding their business across Thailand, Vietnam and South Korea. "We're not shy to travel the world. We love to travel, love to spend time with Leaders. We look forward to it," said Johnny. "Sophie and I specialize in Asian cultures. And Talk Fusion is a borderless digital product. That gives us the opportunity to go local to be global."
Beyond the certainty of Talk Fusion's infrastructure and the online marketplace appeal of their all-in-one Video Marketing Solution, there is another overriding factor that makes Talk Fusion the perfect choice for the Chungs. "It's the only kind of business of that can keep up with Sophie," Johnny admitted. "It moves as fast as she does."
ABOUT TALK FUSION
A global leader in video marketing solutions, Talk Fusion is dedicated to helping grow businesses and change lives through proprietary, patent-pending video technology.
Talk Fusion's innovative products are marketed person-to-person by independent Associates in more than 140 countries.
Established in 2007 by Founder & CEO Bob Reina, Talk Fusion introduced the world's first Instant Pay Compensation Plan. Talk Fusion adheres to the highest ethical business practices and is a member of the prestigious Direct Selling Association (DSA). Reina firmly believes that "with great success comes greater responsibility."
Talk Fusion fosters a strong commitment to Giving Back to family, friends, communities, and animal charities across the world to produce a positive global change. Learn more at www.TalkFusion.com and "Like" Talk Fusion at www.facebook.com/TalkFusion.
Income Disclaimer:
Any earnings portrayed in any Talk Fusion marketing materials are not necessarily representative of the income, if any, that a Talk Fusion Associate can or will earn through his or her participation in the Talk Fusion Instant Pay Compensation Plan. All references to income, implied or stated, throughout the Talk Fusion Instant Pay Compensation Plan are for illustrative purposes only. These figures should not be considered as guarantees or projections of your actual earnings or profits. Talk Fusion does NOT guarantee any level of income or earnings to any Associate; any representation or guarantee of earnings would be misleading. The purchase of a Talk Fusion Product Package is completely optional and is not required for an Associate to participate in the Talk Fusion Instant Pay Compensation Plan.