Laguna Blends Announces MOA With National Hemp Association
February 8, 2016
By Team Business For Home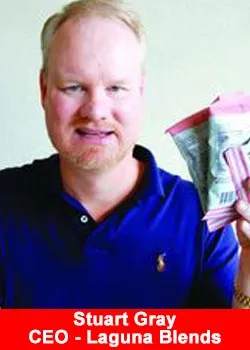 Laguna Blends Inc. (CSE: LAG) (Frankfurt LB6.F) (OTC: GNRSD) (the Company or Laguna) announces it has entered into a Memorandum of Understanding with the National Hemp Association, Inc. (NHA).
The NHA will be joining as an affiliate in Laguna's business. The NHA will include Laguna on their website and in their monthly e-newsletters, as a network marketing company which offers high quality, hemp based, functional beverage products.
The National Hemp Association is excited to join forces with Laguna Blends to offer their nutritional hemp-based product line to our members, said Zev Paiss, Executive Director of NHA.
Laguna is pleased to have established a business relationship with the National Hemp Association, commented Stuart Gray, Laguna's President and CEO. The NHA is a credible resource of information for our Laguna affiliates to learn about the history and benefits of hemp. In addition, Laguna agrees with the NHA mandate of legalizing hemp at the Federal level.
The National Hemp Association will provide a special offer to all of its members that live in Canada and the USA to offer 100 Laguna product sample packs to the first 100 members that respond to the offer. The NHA currently has an electronic database of 2,300+ supporters plus a social media following of over 23,000.
Laguna will endorse the NHA association and provide a link for the NHA in its corporate website.
About The National Hemp Association
The NHA is a Colorado non-profit trade association with a goal to support the growth and development of all aspects of the industrial hemp industry. The NHA is dedicated to the reintroduction of hemp as a mainstream agricultural commodity and cash crop to provide jobs and economic development for farmers.
About Laguna Blends Inc.
The Company's business is focused on the nutritional health benefits derived from hemp. Laguna is a network marketing company that intends to generate retail sales through independent affiliates. Affiliates utilize tools and technology that enable them to build an international business from their own home or while travelling. The first products to be launched are functional beverage products that provide high levels of protein and/or nutrition.
Laguna's products are made from high quality hemp protein. Some of the current products are, Caffe an instant, just add water hot coffee beverage that contains both whey and hemp protein. In addition, the Company plans to market a product called Pro369. This unique single serving on-the-go hemp protein is served cold and comes in 4 delicious flavors. Pro369 is water soluble and can be directly mixed in water or added to milk, almond milk or coconut milk. Pro369 can be blended in a shake or smoothie. The Company intends to sell its products through its independent affiliates in the USA and Canada and anticipates launching its business in early 2016.