USANA Three-Time Winner Of Top Rated Direct Selling Brand
February 26, 2016
By Nicole Dunkley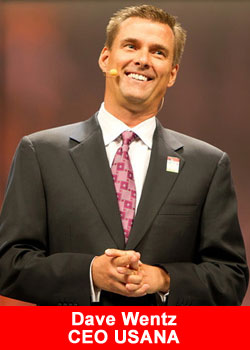 The awards continue to roll in for global health and wellness company USANA, as they were just recently named the 2016 Top Rated Direct Selling Brand in ConsumerLabs's Survey of Vitamin and Supplement Users.
This award was presented to USANA based on customer satisfaction, with a greater percentage of consumers being highly satisfied with USANA than with other direct selling brands.
USANA continues its momentum from 2015 where the company was recognized with the prestigious ConsumerLab.com Seal of Approved Quality — a certification of purity and label accuracy — from ConsumerLab.com for 10 of its supplements: Visionex®, CoQuinone® 30, Active Calcium™, Vitamin D, Pure Rest™, USANA® Probiotic , USANA® Essentials™, Usanimals™, BabyCare Prenatal Essentials and Body Rox™.
When consumers continue giving our products the highest ratings possible through ConsumerLa's annual survey, it holds serious weight in our industry, says Dan Macuga, USANA's chief communications officer.
We are thrilled to be regarded once again as the top brand in the direct selling industry that features so many outstanding companies. We pride ourselves on customer satisfaction and loyalty and this recognition just reinforces that.
This top rating demonstrates high satisfaction among USANA supplement users, said ConsumerLab.com President, Dr. Tod Cooperman.
This is not the first time USANA has been presented with the best brand award from ConsumerLab, receiving the top rating in both 2013 and 2015. This further strengthens USANA's message as a top brand in the supplement industry.
About USANA
Founded in 1992, USANA Health Sciences (NYSE: USNA) is a U.S.-based nutritional company that manufactures high-quality supplements, personal care and healthy products in its FDA-registered facility in Salt Lake City.