WOR(L)D GN StayConnected Tour Mumbai Attended By 1,500 Participants
February 10, 2016
By Team Business For Home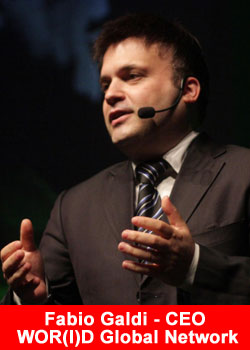 A resounding success has marked the beginning of WOR(L)D Global Network Stay Connected Tour.
The company management wanted to give a strong signal starting from one of the emerging markets of WOR(L)D, but already a promising one for the business.
On January 30 and 31 the Sahara Star Hotel in Mumbai (India) has hosted the first stop of the world tour that sees the WOR(L)D Global Network as the main actor.
A planetary success for WOR(L)D which has seen a massive participation of the public, more than 1,500 participants, who could receive in advance the great news by our CEO Fabio Galdi and by the company top management.
WOR(L)D connects people building the first independent mobile network, built and owned by the people.
During this two day event we introduced the product line which will the help company building its own network of independent communication:
The SpacePhone

The mSim

The Space Station
Three products which will change the future of communication thanks to an innovative approach: the crowdsourcing. WOR(L)D expect a bottom-up involvement in building of its own network, thus subverting the current paradigm, that sees only mobile operators as main actors and global communication revenue gainers.
Those who have participated in the first stop of the StayConnected Tour had also the opportunity to receive in advance important news regarding the development of a product line of wearables related to the world of wellness and lifestyle.
Mumbai is just the start of this fantastic tour, which will soon move to the next destination.
Here are the next dates:
February 20-21 – Miami (USA)

February 25-26-27 Bogota (Colombia)

February 27-28-29 Ciudad del Este (Paraguay)

March 5-6 Moscow (Russia)

March 12-13 Almaty Kazakhstan

March 18-19 Dubai UAE)

March 26-27 Tunis (Tunisia)
The WOR(L)D Global Network is ready to welcome this new exciting challenge.
About WOR(l)D GN
WOR(l)D also referred to as World GN is a global multi million dollar company that offers services in the telecommunications, renewable energy, technology and mobile Telecommunication.
Its current headquarters is in the United States with its major offices in the United States, United Kingdom, Russia, Moscow, Ireland, China and Singapore. For more information please visit www.worldgn.com