Zija International Wins Davey Product Campaign Award
February 13, 2016
By Nicole Dunkley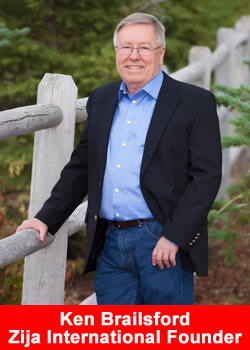 The winners of The 2015 Davey Awards have been announced by the Academy of Interactive and Visual Arts, and Zija International is proud to be an Integrated Campaign winner! With nearly 4,000 entries from around the globe.
The Davey Awards honors the finest creative work from the best companies worldwide. Zija is proud to have earned an award for its marketing efforts and outstanding products—specifically acknowledging its Améo Essential Oils product division. The award recognizes Zija's works in providing high-quality products and tools to its Distributors and customers alike.
The Davey Awards is judged and overseen by the Academy of Interactive and Visual Arts (AIVA), a 700+ member organization of leading professionals from various disciplines of the visual arts dedicated to embracing progress and the evolving nature of traditional and interactive media.
The Davey Awards exclusively honor the "Davids" of creativity, the finest companies worldwide. David defeated the giant Goliath with a big idea and a little rock—the sort of thing small agencies do each year. The annual International Davey Awards honors the achievements of the Creative Davids, who derive their strength from big ideas rather than big budgets.
The Davey Awards is sanctioned and judged by the Academy of Interactive and Visual Arts, an invitation-only body consisting of top-tier professionals from a Who's Who of acclaimed media, advertising, and marketing firms.
ABOUT ZIJA INTERNATIONAL
Zija International, a privately-held and privately-funded business founded by Kenneth E. Brailsford and led by Ryan Palmer, develops natural health, wellness, nutrition, beauty and fitness products. The company operates in more than 50 countries worldwide.
Zija has seen consistent growth every year since it was founded over 9 years ago and was named the Fastest-Growing Company in Utah by Utah Business Magazine. It has also been recognized on fastest-growing and top-revenue lists by Inc. Magazine, Direct Selling News, and Utah Valley Magazine, to name a few.
With corporate offices and more than 4 million sq. ft. of state-of-the-art warehouse, shipping and manufacturing facilities located in Utah, United States, Zija International employs more than 200 individuals and has the capacity to grow to more than two billion dollars in annual sales.