5,000 Attendees Expected At Primerica's 16th Annual AALC
March 16, 2016
By Nicole Dunkley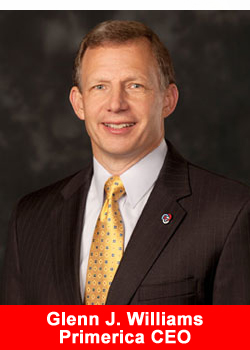 Primerica, Inc., a leading distributor of financial products to middle income households in North America, today announced that over 5,000 attendees are expected to participate in Primerica's 16th Annual African American Leadership Council (AALC) meeting at the Orlando World Center Marriott in Orlando, Florida, on March 18-20, 2016.
The focus of the three-day event is the African American market, and the conference includes a variety of workshops on leadership, product training, and an assortment of financial and marketing topics designed to help Primerica representatives better serve the African American families in their communities.
"Since its founding in 2000, our AALC has grown into a significant force within Primerica. This year's conference theme – Bigger! Stronger! Faster! – and our exciting agenda underscore our mission of empowering African Americans in Primerica to establish a legacy of financial independence through entrepreneurship," said John Lennon of Greensboro, NC, Primerica Senior National Sales Director and AALC Co-Chairman.
"This annual conference provides a wonderful opportunity to achieve our mission by mentoring, educating, motivating, and rewarding the success of everyone in attendance. I'm excited about all that we'll accomplish over such a short period of time."
Conference attendees will hear from some of the company's most successful sales representatives, as well as from Primerica CEO Glenn Williams and Primerica President Peter Schneider.
"I'm honored to participate in the AALC event – it always has a positive impact on our field leadership and advances our mission of creating financially independent families," said Williams.
"Primerica is uniquely positioned to meet the needs of Main Street clients while offering an unsurpassed business opportunity for entrepreneurs."
About Primerica, Inc.
Primerica, Inc., headquartered in Duluth, GA, is a leading distributor of financial products to middle income households in North America. Primerica representatives educate their Main Street clients about how to better prepare for a more secure financial future by assessing their needs and providing appropriate solutions through term life insurance, which we underwrite, and mutual funds, annuities and other financial products, which we distribute primarily on behalf of third parties.
In addition, Primerica provides an entrepreneurial full or part-time business opportunity for individuals seeking to earn income by distributing the company's financial products. We insured approximately 5 million lives and have over 2 million client investment accounts at December 31, 2015. Primerica stock is included in the S&P MidCap 400 and the Russell 2000 stock indices and is traded on The New York Stock Exchange under the symbol "PRI".