Antony Spear Buyezee – CTO Interview
March 10, 2016
By Team Business For Home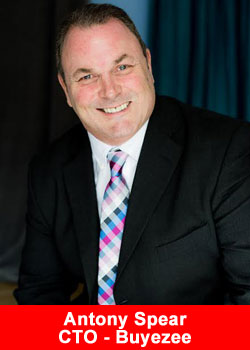 Buyezee's SHOP OWNER packages enable individuals and companies alike to tap into the consumer online shopping marketplace by way of a professional, 100% personally owned and branded eCommerce comparison shop. Recently Daniela Claudia Szasz was apponited as CEO.
The shop is pre-populated with 100,000,000's of products, flights, hotel and local deal offers by way of access to Buyezee's database of Super Affiliate Relationships from 10,000's of trusted and well respected online retailers.
Buyezee currently offer a total of 7 SHOP OWNER Packages to cater for all budgets, ambitions and earning potential. The entry product is the "Free for Life" AFFILIATE Package that allows individuals to start profiting; proving the business concept and building their confidence to succeed with "zero risk".
The AFFILIATE package is a clone of the independent comparison Buyezee.com website and works on a sub URL basis, e.g. "XYZ.Buyezee.com" where individuals can then promote their link on social media platforms like Facebook and Twitter, getting paid 20% of the commissions that Buyezee receive from their vendor relationships – which are made up from a combination of sales, clicks and lead generation commission income.
Ted Nuyten had the honor to interview Antony (Tony) Spear – Buyezee CTO:
Antony, I guess Buyezee also offers upgrades?
Ted, for the more ambitious and dedicated, Buyezee's "paid for" packages start at just 199€ per annum. This gives the SHOP OWNER the ability to operate their own URL e.g. "XYZ.com" with their own logo, fully customisable colour schemes, the ability to build up a mailing list, access 100,000,000's of products, local deals and travel related booking engines, search engine friendly sitemaps and build up their own brand – focussing 100% on promotion and leaving all of the technical management to Buyezee.
With the Buyezee Shop Owner Shopware Business System – anyone, regardless of experience, can be up and running – trading and promoting a cutting edge ECommerce store within hours, instead of weeks or months if going it alone, plus saving themselves $10,000 in upfront development costs and $1,000's monthly on technical support and hosting fees.
Is every shop the same?
Every shop looks completely different, with literally millions of combinations and using one of the hundreds of pre-set templates, everyone can stand out!
For example, take a look at www.monsterdiscount.net and www.1stClassDeal.com"
Buyezee upgraded Shop Owners immediately benefit from:
Top Affiliate Commission Payout

Own domain / URL

Full customization

Mailing list generator

Video tutorials

Banner Management Console

Custom Page Editor

SEO Productivity Suite

Own Product Uploader & Management

Detailed Analytics Console

Earnings and Income Dashboard

Option for international, multilingual shops

Rapid Response Support

Immediate start – no downtime setting up

Ongoing marketing support

NO PREVIOUS EXPERIENCE OR KNOWLEDGE REQUIRED
What are Shopreneurs?
Buyezee Shop Owner Packages are promoted and purchased from an independent network of person to person direct sales entrepreneurs, who are referred to as "Shopreneurs", and are rewarded from sales of the Shop Owner Business Systems, plus an ongoing percentage of affiliate commissions generated from each of the shops, through 10 levels of sales.
If you would like more information on Buyezee Shop Owner Packages or the Buyezee Shopreneur Opportunity – visit: www.Buyezee.net