Isagenix Appoints Travis Ogden As President And COO
March 26, 2016
By Team Business For Home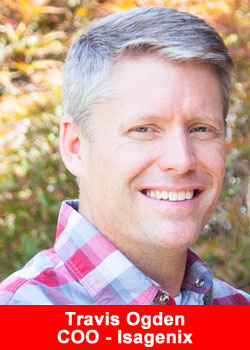 Isagenix International, a leading global health and wellness company, announces Travis Ogden as President and Chief Operating Officer.
Prior to Isagenix, Travis held the positions of Chief Operating Officer and Chief Financial Officer, ultimately aiding his last organization in surpassing its $1 billion mark in annual sales.
"We're excited to add Travis' more than 12 years of direct selling industry experience and passion for health and wellness to our Corporate team," says Jim Coover, Isagenix Co-Founder and Chief Executive Officer.
"His specialization in the cultivation of entrepreneurship and the expansion of health and wellness companies around the world complements our growth initiatives."
Travis is a devoted husband and father of five children. He and his wife Holly truly embody the Isagenix mission and values.
"As President and Chief Operating Officer, Travis will build upon the tremendous success Isagenix has experienced thus far," says Jim Coover.
"I'm thrilled to be able to join such a high-quality company," adds Ogden.
"The company's reputation and position in the market shows that it is poised for significant growth in the future. After using the products and meeting the team, I immediately knew that my personal values aligned with this company."
Travis has held several senior-level, finance- and operational-related positions within multiple billion-dollar companies focused on growth and sales. He holds a Bachelor of Science in accounting and a Master of Business Administration from the University of Utah. He is also a certified public accountant.
About Isagenix
Established in 2002, Isagenix provides systems for weight loss, energy, performance, healthy aging, and wealth creation. With more than 520,000 Members worldwide and more than 100 life-changing products, packs, and systems, the company is committed to producing Solutions to Transform Lives™ .
To date, Isagenix has reached $4 billion in cumulative sales through an independent network of Associates in the U.S., Canada, Puerto Rico, Hong Kong, Australia, New Zealand, Taiwan, Mexico, Singapore, Malaysia, Colombia, Vietnam, and Indonesia. The company's vision is to impact world health and free people from physical and financial pain. Isagenix, is a privately owned company with headquarters in Gilbert, Arizona, and is a member of the Direct Selling Association. For more information, visit Isagenix.com.