Top Leader – Dakota Rea, Shares His Neon Energy Success Story
March 16, 2016
By Team Business For Home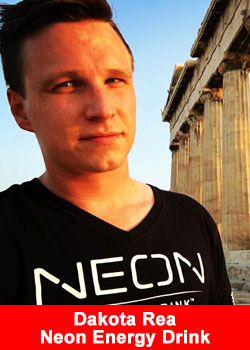 Dakota Rea is one of the top leaders in the Direct Selling Industry, founder and Inventor of Neon Energy Drink.
Dakota Rea has traveled to 42 countries and counting for the purpose of Network Marketing.

He joined his first company when he was only 17 and was blessed to build the fastest growing team in that company by the time he was 19.  By the time he was in his early 20's he had a global organization with tens of thousands of distributors worldwide.
Dakota is a published author, speaker, and a highly demanded consultant for Network Marketing companies showing them how to drastically increase their sales by branding and tapping into the Generation Y demographic.
Marketing companies showing them how to drastically increase their sales by branding and tapping into the Generation Y demographic. Neon energy drink is an important fast growing part of ViSalus product offering (Vi).
Dakota, tell us a little about your background? 
I grew up in a resort mountain town in the US called Bend, OR. Little did I know back then that I would one day create a globally successful energy drink like NEON! It's even got celebrity fans – like Christina Milian, Chris Brown, and Terrence J.
How did you develop NEON Energy Drink?
For the last 11 years of my career in Network Marketing, I've had the privilege of working with the best of the best in the industry, which took me on fantastic adventures around the world to nearly 60 countries, and counting. During these adventures I published a fbook on generational kinetics and consumerism trends. I also researched the types of products that might bridge the gap between Millennials and other generations.
I studied trends and began identifying various products that would both withstand varying economic conditions and flourish in a global market.
Beyond my research, I have a background in food science and flavor technology where I have had the opportunity to work with many successful companies.
All this led me to finally create the master formula for what I call 'the future of energy drinks,' NEON. And when I made the drink glow (literally!) under a black light, customers started to fall in love. It makes me so proud to see the positive results of my life's work. I am so inspired by all the consumers who believe in this product and will continue to do whatever I can to help satisfy their high NEON demands.
Why Vi?
ViSalus (aka "Vi") is hands down the coolest company in the industry! Ryan Blair, Blake Mallen and Nick Sarnicola have brought the 'Apple' cool factor to the Direct Selling profession. They've pioneered the way of a true 21st century, multi-generational lifestyle brand.
It's been an absolute honor to work with three exceptional leaders who are dedicated, driven, and passionate about their work – and most importantly, about making a difference. We provide a lifestyle brand of healthy meals, drinks, and snacks; bringing fun and excitement to communities – and the industry. Why would I want to be anywhere else?
Tell us about your experience with the North America Launch?
It's been a dream come true! I say dream because I feel like I'm dreaming everyday. When I go to work, I have to pinch myself to make sure I'm not asleep. To watch the business goals and desires that I've worked so hard to achieve, finally start being realized is just incredible. The best part is that this is just the beginning.
Thanks to Vi and its Founders we have created an incredible top-tier product. It's something I can feel proud of and know is supported by a great company whose values and mission align with my own. I am having the time of my life.
Tell us about your excitement with NEON now in EU!
I'm so excited that NEON has launched in Europe. I can't even begin to explain! Not only is my family lineage from Europe, but I have also lived and worked there for most of my career.  With NEON making mainstream news in the EU within the first 45 days of its launch, I'm now looking to make this one of the biggest international launches yet.  
What's your plan with EU?
Now that I have the best company possible to manage the NEON brand, I have decided to go back into the field to seek top mainstream, like-minded leaders and create an organization like this industry has never seen. I want to attract the top leaders in Europe so they can join me on this incredible journey.
Any additional info you think we should mention?
I am currently making European travel plans to meet privately with leaders of all ranks so I can create my A-Team. I'm excited to get out there and start working! I can't wait to team up with the next generation of this industry's superstars! If that's you, email me at [email protected].
About ViSalus
ViSalus is a healthy lifestyle company committed to transforming life, health and prosperity around the world by creating meaningful connections, supporting physical transformations, and promoting entrepreneurial freedom. Through its flagship program, The Challenge, ViSalus has developed a leading platform for achieving weight-loss, health and fitness results.
With NEON Energy Drink®, Vi is quickly revolutionizing the booming energy drink market with a top-shelf option that fits into Vi's healthy lifestyle. Founded in 2005, ViSalus develops innovative weight-management products, functional foods, energy drinks and nutritional supplements that it markets and sells direct-to-consumers through an international sales force of independent Promoters.
ViSalus offers its products in North America under the ViSalus® brand and in Europe under the Vi™ brand. ViSalus is headquartered in Troy, Michigan, with offices in Los Angeles and throughout Europe. For more information about ViSalus, please visit Vi.com and follow the Vi-Community on Facebook (Facebook.com/Vi), Instagram and Twitter (@ViSalus).