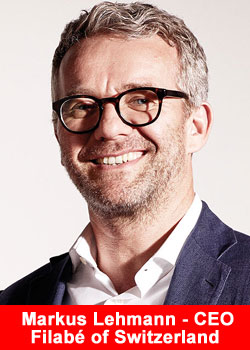 Wolfgang Balters – CEO Filabé Interview (in German)
March 1, 2016
Filabé of Switzerland ist im Kosmetikbereich aktiv und nach eigenen Angaben im Besitz einer weltweit patentierten Technologie, welche erstmalig die Wirkstoffe direkt und ohne Zusatzstoffe in die Haut einbringen kann.
Dafür wirbt das Unternehmen mit dem Slogan Bis weit über 100-Mal höhere Wirkstoffkonzentration als in herkömmlicher Pflege. Markus Lehmann ist, CEO & Eigentümer- Filabé of Switzerland, und Wolfgang Balters – CEO Filabé Germany.
Nachdem in der Schweiz innerhalb von nur 12 Monaten rund 15.000 Kunden aufgebaut wurden und die Produkte auch über Dermatologen und Apotheken vertrieben werden, startet das seit 4 Jahren bestehende Unternehmen jetzt auch außerhalb der Schweiz und setzt seit Februar 2015 auf den Direktvertrieb (Uni-Level).
Filabé bereitet derzeit die Expansion in neue Märkte vor und wird dafür die Hebelwirkung des Network Marketings nutzen. Die Produkte sind bereits in der EU zugelassen. Weitere Märkte befinden sich in der Vorbereitung.
Top Leadern sind Alexander Herr, Birute Luksiene und Arunas Luksas (Lettland), Janusz Dudkowski (Polen), Cosette & Oliver Weyer, Mandy & Mario Hillig, Giulio Demuro, Nicoletta Hahn & Daniel Weinstock (Spanien), Melani Sommer, Anke Döller, Michaela & Uli Walter, Hubert Ladig, Monika Mayer, André Severino, und Jürgen Pulvermüller.
Ted Nuyten had the honor to interview Wolfgang Balters and network marketing professional Alexander Herr:
Alexander Herr baute über 60.000 Partner in 8 Jahren auf
Zählt zu den TOP 50 der europäischen Networkern
In die Hall of Fame der Networker gewählt
Hat hunderten zu finanzieller Freiheit verholfen
Verdient mehr als 1.4 Mio USD/Jahr
Verfügbar für Trainings und Workshops weltweit
Baute über 6500 Partner in nur 6 Wochen bei seinem vorherigen Unternehmen auf
Wolfgang, can you give a few facts and figures about Filabé?
Filabé wurde 2010 erfunden und das Unternehmen wurde 2012 von Markus Lehmann zusammen mit seinem Partner gekauft. Die ersten zwei Jahre hat man sich damit beschäftigt das Produkt richtig zu verstehen und
in diesem Zusammenhang wurden in der Schweiz viele klinische Studien in Auftrag gegeben. Zudem wurde in dieser Zeit der Markenauftritt vorzubereiten und viele Kundenumfragen durchgeführt.
Gestartet wurde in dieser Vorbereitungsphase auch der Verkauf über einen Online Shop und in der Schweiz ansässige Apotheken. Hier hat man schnell festgestellt das Apotheker keine Verkäufer sind und lediglich Produkte verkaufen, nach denen die Kunden auch fragen.
Diese Erkenntnis führte dazu, dass man sich im November 2014 dazu entschlossen hat, mit einer breit angelegten Werbekampagne den Markt in der Schweiz zu erobern. Nach nur 12 Monaten wurde so mehr als 15.000 Kunden mit einem Gesamtumsatz von ca. 3.5 Mio. Euro aufgebaut.
Die Kundenzufriedenheit bei über 10.000 befragten Kunden liegt bei 95%. In 2014 hat man sich dann entschlossen auch außerhalb der Schweiz zu agieren. Aus diesem Grund wurde im Juni 2014 auch die Filabé Germany GmbH gegründet.
Why Network Marketing for Filabé in Deutschland and Österreich?
Es gibt aus unserer Sicht weltweit keine bessere Vertriebsform um neue Produkte schnell einem breiten Publikum vorzustellen als die, über den Direktvertrieb/MLM. Würden wir den Weg über TV Werbung wie in der Schweiz gehen, würde es wesentlich länger dauern, bis wir weltweit auch in jedem Winkel bekannt sind als dies nun über den gewählten Vertriebsweg möglich ist.
Zudem bieten unsere Produkte alles was ein Produkt für ein erfolgreiches Business im MLM benötigt. Kurz gesagt, die besten Produkte im richtigen Geschäft!: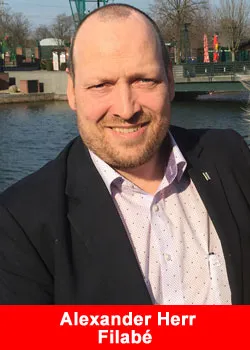 Will Filabé open other international markets?
Bereits jetzt können Kunden aus allen 28 Ländern der EU sich bei uns im Shop als Kunde registrieren und auch unsere Produkte bestellen. Filabé Partner werden kann man aktuell in Deutschland, Österreich, Zypern, Polen, Spanien und den Niederlanden.
In den nächsten 12 Monaten sind aktuell die folgenden Länder geplant: England, Schweden, Italien und die Türkei. Hier müssen wir aber noch einige Hausaufgaben machen, damit unsere Partner in all diesen Ländern auch rechtlich einwandfrei starten können.
Alexander, what are the highlights in the compensation plan?
Durch ein absolut lukratives und ausbalanciertes Vergütungs-System belohnt der Kompensationsplan von Filabé mehr Menschen mit mehr Geld.
Die reichhaltigen Belohnungen sind unsere Art Geschäfte zu machen und ermöglichen einen erfüllten Lebensstil. Neben unserem Level-Bonus bieten wir unseren Partnern 7 weitere attraktive Boni:
KUNDEN-WEITEREMPFEHLUNGSPROGRAMM
SALES-PAKETE
FIRST-ORDER BONUS
FAST-START BONUS
LIFESTYLE BONUS
LEVEL-BONUS
WELTPOOL BONUS
FILABÉ ERLEBNISREISE
How does the company support the network marketing professionals?
Zuerst einmal unterstützen wir alle unsere Partner durch unser 3 Unterstützungsprogramme, für die die Kosten im Übrigen zu 100% von uns übernommen werden. Unterstützen wir nämlich alle Partner beim Aufbau Ihres Geschäftes, ist dies die beste Unterstützung für alle professionals.
Kunden-Weiterempfehlungsprogramm: Für 3 erfolgreiche Weiterempfehlungen innerhalb eines Kalendermonats schenken wir jedem Kunden oder Partner im Gegenzug eine 4-Wochenpackung nach Wahl. Lediglich die Versandkosten müssen bezahlt werden.
VIP-Service Abonnement Mit jeder monatlichen Lieferung im VIP-Service erhält der Kunde zusätzlich eine Treueprämie in Form einer Produktzugabe in Form von 20% (1 Wochenpackung à 7 Tücher) des von ihm ausgewählten Produktes GRATIS!
Neukunden Rabatt: Neukunden erhalten bei uns bei Eingabe eines sogenannten Empfehlungscodes (jeder Kunde & Partner erhält diesen bei seiner Registrierung automatisch) eine 5.Wochenpackung (7 Tücher) des bestellten Produktes gratis dazu.
Jeder Partner erhält ein professionelles Backoffice mit großen Downloadbereich & einer Umsatzanzeige. Darüber hinaus eine persönlich codierte Webseite mit Online Shop.
Den vielleicht modernsten Online Shop Europas.
Professionelle Anwender-, Produkt-, Blogger- und Vertriebs-Videos plus zahlreiche Werbespots.
Life Seminare & Webinar Plattform
Statements von weltweit anerkannten und bekanntenExperten & Dermatologen
Aussagekräftige Studien zur Wirksamkeit unserer Produkte.
Professioneller VK-Hilfen wie Broschüren, Handbücher und Datensticks.
About Filabé Of Switzerland
Filabé's innovative facial care tissues supply 100% natural, concentrated, nourishing ingredients directly to the skin, dermatologically tested. Moistened with water, the microfibril wipe deeply cleanses and gently exfoliates the skin.
This also has a clever side effect: the skin is optimally prepared to absorb the active ingredients, while the highly concentrated active ingredients penetrate directly into the skin where they can immediately get to work.
The advantage: The skin is given only what it needs and spared the heavy ingredients found in creams. Due to their chemical composition, most creams must contain additives such as alcohol, emulsifiers, fragrance and preservatives. Filabé thus has up to 100 times higher concentrations of active ingredients than creams.