WorldVentures Named Among Dallas Business Journal's 2016 List Of 40 Healthiest Employers
March 3, 2016
By Nicole Dunkley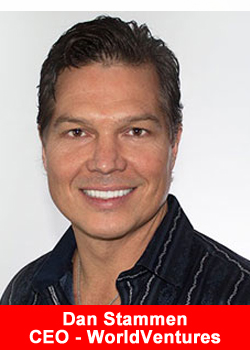 WorldVentures was named on The Dallas Business Journal's 2016 list of 40 Healthiest Employers in North Texas released on February 5.
The annual list is determined based off of the following criteria: culture and leadership commitment, foundational components, strategic planning, communication and marketing, programming and interventions and reporting and analysis.
"We're very proud to be recognized for our wellness program among some of the most respected companies in North Texas," said WorldVentures CEO Dan Stammen. "2015 was only the first year of our Living Well program through HumanaVitality and our smoking cessation program through TrestleTree®, and our entire team has already accomplished so much."
WorldVentures successfully achieved a 59.9% participation and an overall 25% engagement. WorldVentures also achieved a 35.6% Tobacco Quit Rate for employees and spouses participating in TrestleTree.
And there are many success stories about dramatic weight loss and the health-related benefits as a result. This was done by having corporate wide activities like nutrition talks, runs, walks, rallies, challenges, on-site biometric screenings and health fairs.
WorldVentures and HumanaVitality partner in the creation and execution of short-term and long-term strategic plans to drive employee engagement that are intended to elevate the focus on health and wellness, including physical, but also intellectual and financial.
The company's culture of emphasizing wellness has also led to significant improvements in other company programs, including increased PTO accrual rates based on tenure that range from 3 weeks to 6 weeks annually, introducing a 4-week company paid sabbatical program to energize and rejuvenate employees, and the introduction of a 401(k) match to help secure the financial health of our population.
Stammen goes on to say, "The one thing that we believe sets our Living Well program apart from others is that we extend our HumanaVitality program to all WorldVentures employees and their spouses, whether they are covered under our medical plan or not. We want everyone to have access to the same resources, offerings and activities in order to establish their own goals and elevate themselves to a healthy and rewarding lifestyle."
The rankings of the 40 recognized companies will be revealed by the Dallas Business Journal at an awards luncheon on March 10 at the Hyatt Regency Dallas.
About WorldVentures
WorldVentures Marketing, LLC is the leading international direct seller of vacation club memberships and is on a mission to help people achieve more fun, freedom and fulfillment by offering DreamTrips™ Members premium vacations at reduced prices. WorldVentures combines the power of the Internet with the strength of the direct-selling industry to market its DreamTrips Memberships. WorldVentures is a privately held company based in Plano, Texas, with active Representatives and Members in 29 countries.