WRMT To Manufacture 100,000 'Helo' Wrist Bands
March 30, 2016
By Nicole Dunkley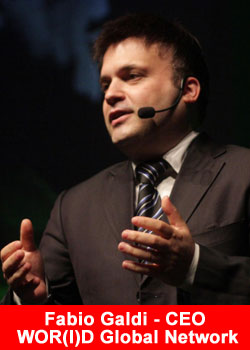 World Media & Technology Corp. (OTCQB: WRMT) today announces that it has started production of 100,000 Health & Lifestyle Oracle ('HELO') wristbands that are scheduled for worldwide launch in Q2'16.
HELO is World Media & Technology's Health & Lifestyle Oracle wristband, which monitors the wearer's vital signs, fitness and sleep quality, 24/7/365.
Trend measurements, which include blood pressure, heart rate monitoring and ECG, combined with a sleep quality assessor and fitness indicators such as steps taken, distance traveled and calories burned, all provide the wearer with continuous feedback so that they can make changes to their lifestyle and improve their health.
Feedback and data presentation are available via the HELO software application that will be available for download on Android and iOS platforms.
WRMT's distributors have commenced pre-launch activities and significant demand is expected from the US, LatAm, India, Far East, MENA and Russian markets.
WRMT sells the HELO unit to distributors for a fixed unit price and will also receive an additional recurring service and activity based license fee for every HELO application downloaded.
Going forward, WRMT intends to establish collaborative relationships with medical experts and thought leaders who will get secure access to the aggregated, anonymised data which will be available for research purposes.
"This new 'open source' approach to health and wellbeing management opens up some significant collaborative partnerships with existing healthcare players and industry leaders, who would like to access this previously unavailable data.
We fully understand and respect the privacy and data management issues that such a device creates, particularly when potentially sharing user data. Rest assured, we will address this area responsibly," says Fabio Galdi, CEO, World Media & Technology.
"However, the opportunities of this technology are many, ranging from improved HELO wearer fitness levels, medical expert access, to continuous vital sign monitoring for individual patient wellbeing, to medical research where our partners can start to data-mine vital signs across a global population.
Our objective is to offer the best possible data analysis to our HELO wearers, so that we can continue to deliver on the Wor(l)d corporate promise – 'Join Wor(l)d and change your lifestyle'."
About WOR(l)D GN
WOR(l)D also referred to as World GN is a global multi million dollar company that offers services in the telecommunications, renewable energy, technology and mobile Telecommunication.
Its current headquarters is in the United States with its major offices in the United States, United Kingdom, Russia, Moscow, Ireland, China and Singapore. For more information please visit www.worldgn.com