Melaleuca Achieves $1.33 Billion In Annual Sales
April 8, 2016
By Team Business For Home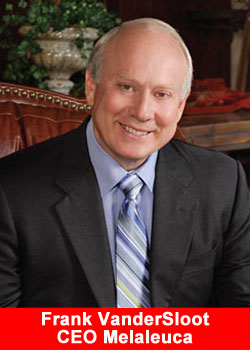 Melaleuca announced Thursday that the USA based company experienced a record-setting year in 2015 with annual sales revenues exceeding $1.33 billion.
Melaleuca has become one of America's most consistent growth companies, having grown 40 percent in the last five years alone.
For the past 30 years, Melaleuca has experienced exceptional growth. For five consecutive years from 1991 through 1996, the company was listed in the Inc. 500, ranking as one of America's fastest-growing companies.
Therefore, it is noteworthy that in 2015, Melaleuca grew more in both revenues and customers than in any previous year. Its U.S. and Canadian operations continue to lead in volume. Melaleuca also saw particularly high growth in its Asian markets, especially China.
Melaleuca gained tens of thousands of new customers around the world. There are now more than 1.2 million households purchasing Melaleuca products on a monthly basis across the 18 countries where it operates. Melaleuca has more "preferred customers"—meaning loyal customers who order consistently month-after-month—than at any point in its history.
"Melaleuca is experiencing an era of explosive growth. We expect that to continue," said Melaleuca CEO Frank VanderSloot.
"We continue to gain momentum as people experience our products and discover they are far superior to grocery store brands. I think it's safe to say that Melaleuca products are being discovered around the world."
"We are getting better in all that we do," VanderSloot said. "We are learning as we grow. Our management team is getting stronger. Our scientists are getting better. Our processes are getting smoother. We are pretty good today, but someday we will be great."
"While 2015 was our best year yet, we already know that Melaleuca will set new records in 2016," VanderSloot continued. "We're excited about where we're going and the speed at which we're getting there. A career at Melaleuca is about as fun as it gets."
About Melaleuca
Melaleuca: The Wellness Company® enhances lives by developing, manufacturing and marketing more than 480 natural health and wellness products. These health, home cleaning, pharmaceutical and personal care products are designed to be safer and more cost-effective than grocery store brands. Visit melaleuca.com for more information.