Oriflame CEO Honored With 2016 Bravo Leadership Award
April 13, 2016
By Nicole Dunkley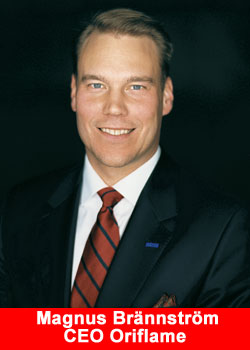 Magnus Brännström, CEO and President of Oriflame, was honored as the recipient of the 2016 DSN Bravo Leadership Award.
Each year, the award goes to one direct selling executive who embodies exceptional leadership qualities—providing inspirational vision for their company, motivating their teams toward a common goal, serving others by equipping them to do the best job possible, and especially by empowering them to reach new heights.
Lauren Lawley Head, Publisher and Editor in Chief of Direct Selling News, and John Fleming, the publication's Ambassador, presented the award to Brännström at the 2016 DSN Global 100 Celebration, held Thursday evening in Dallas.
Brännström delivered the keynote address at the event, which marked the unveiling of the DSN Global 100, a list of the top revenue-generating direct selling companies in the world, as well as a regional subset of the list known as the North America 50.
This year's Global 100, led by Ada, Michigan-based Amway, hail from 17 different countries and represent aggregate revenue of $82 billion. Under Brännström's leadership, Oriflame has perennially ranked among the top companies on the list, and this year is no exception. The Swiss beauty company came in at No. 14 with annual revenue of $1.35 billion.
Brännström began his direct selling career in 1997, serving in executive posts in Russia, the Baltics and Asia as he worked his way up the corporate ladder. He became CEO of Oriflame, a legacy direct selling company, in 2005 and has continued to lead the business through a dynamic period of technological and geopolitical change.
Oriflame now operates in 60 countries—Russia being its biggest market—through a network of more than 3 million consultants.
Like all Bravo Leadership honorees, among them Ambit Energy's Jere Thompson and Amway's Doug DeVos, Brännström has exhibited a vision for the future that extends beyond any one company. He is a fierce advocate for the direct selling channel as a whole, and former Chairman of the Board for Seldia, the European Direct Selling Association.
About Oriflame
Founded in 1967, Oriflame is a beauty company selling direct in more than 60 countries. Its wide portfolio of Swedish, nature-inspired, innovative beauty products is marketed through approximately 3 million independent Oriflame Consultants, generating annual sales of around €1.3 billion. Oriflame supports numerous charities worldwide and is a Co-founder of the World Childhood Foundation. Oriflame is a Swiss company group listed on the Nasdaq Stockholm Exchange.