Talk Fusion Officially Launches 30 Day Free Trials
April 15, 2016
By Nicole Dunkley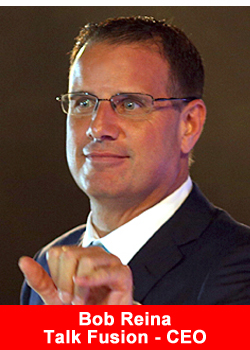 After months of anticipation and promotion, Talk Fusion successfully launched their 30 day Free Trial program on April 12th. Talk Fusion Associates in over 140 countries around the world can now encourage new prospective customers to try the full version of every product in the all-in-one Video Marketing Solution risk-free for 30 days.
Based on initial flurries of Free Trial activity, the company already anticipates a significant rise in customer accounts and Associate success.
"We put in a lot of hard work and effort behind the scenes to maximize the effort our Associates are putting out in the field," said Talk Fusion Founder & CEO Bob Reina.
"The Free Trial program is not only the perfect way for any person, business or charity to try our products absolutely free before they buy, but they are also the final ingredient in our pledge to our Associates: you do not have to be an expert salesman to successfully share Talk Fusion video marketing products."
The launch of the Free Trial program comes with an impressive number of direct marketing and online resources, plus new incentives and advantages for Associates to put them on the path to a successful Talk Fusion business.
"If you're a Talk Fusion Associate, we give you the sales materials, the product resources, professional sales letters, marketing webpages, the videos, a brand-new product brochure and more," Reina stated.
"All of these resources free our Associates to do what they do best: bring their own excitement. We give them the confidence to be enthusiastic about our products, and that will make new prospects eager to start their Free Trial right away. That's when our marketing email and resources take over."
Free Trial Users have full access for 30 days to the complete features and functionality of Talk Fusion's all-in-one Video Marketing Solution: Video Email, Video Newsletters, Live Meetings, Sign-up Forms, and Video Chat.
"This is such an awesome opportunity for businesses of all sizes to grow their customer base and build an even better brand loyalty," said Associate Kevin Owens. "Free Trials absolutely take the guesswork out. Every company owes it to themselves and their clients to take the Free Trial."
For Talk Fusion Associates, Free Trials not only help them build a strong customer base of their own, but also reward them for continued success. Every time an Associate signs a new customer, they get 10 more Free Trials to hand out.
On top of that, Talk Fusion's world's-first Instant Pay Compensation Plan has been enhanced and upgraded with additional bonuses and incentives—like the new Customer Pool—to make the Free Trial process even more rewarding.
In the wake of Free Trials, Associate training has received a renovation with the newly-created Impact Guide that expands proven training to embrace the technique of offering Free Trials, best practices, proper follow-up, and philosophy behind the Free Trial program.
It's training that really brings the Free Trial program home for Blue Diamond Leslie Brown. "I'm really fired up about taking Free Trials to the marketplace and letting each and every business see how they can use every single product to get more customers, and skyrocket their profits—because Talk Fusion helps them connect better with video."
For Bob Reina, Free Trials is a clear win-win situation for both customers and Associates. "Every business needs customers. Every business needs marketing. So every business needs Talk Fusion."
ABOUT TALK FUSION
Home of the world's first all-in-one Video Marketing Solution, Talk Fusion is dedicated to helping businesses stand out from the competition, increase sales and profits, and keep their customers coming back. Talk Fusion offers dynamic ways to make marketing more engaging, memorable, and persuasive with video.
Talk Fusion's innovative products are marketed person-to-person by Independent Associates in more than 140 countries. 30 day Free Trials of the all-in-one Video Marketing Solution are available to anyone who wishes to try before they buy—no credit card required.
Established in 2007 by Founder & CEO Bob Reina, Talk Fusion fosters a strong commitment to Giving Back to family, friends, communities, and animal charities across the world. Learn more or sign up for a 30 day Free Trial at www.TalkFusion.com and "Like" Talk Fusion at www.facebook.com/TalkFusion.