Amore Pacific Q1 Revenue Up 22% To $1.5 Billion
May 9, 2016
By Team Business For Home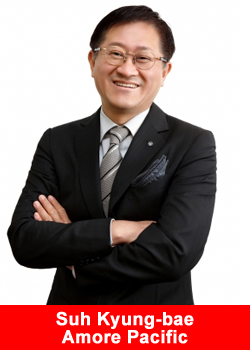 Amore Pacific posted record earnings again as sales of its beauty products keep surging in China.
Korea's biggest cosmetic maker on Monday said first-quarter revenues soared 22 percent compared to the same period last year to W1.76 trillion, while operating profit soared 31 percent to W419 billion (US$1=W1,141).
Sales in Asia grew 50 percent to play a key role in the stellar earnings performance. The operating margin reached 23.8 percent, which is even higher than Apple's celebrated 23 percent and Google's 21 percent last year.
Amore Pacific's full-year operating margin is forecast at 18 to 20 percent given the cosmetics industry's tendency to post higher operating profits in the first quarter due to lower marketing costs. But that is still an enviable edge for a manufacturer.
A company spokesman said brand awareness in China is rising, which helps it cut marketing and advertising costs and improve profitability.
Amore Pacific opens a flagship store for the Sulwhasoo brand in Seoul's upscale Gangnam area in April. /Courtesy of Amore Pacific
Amore Pacific sells products to Chinese customers through three channels — Korean duty-free shops, local production and sales in China and exports from Korea. Sales through these three channels surpassed W1 trillion in 2015 and are expected to reach W2 trillion this year.
The company's oversesas strategy is to focus on marketing five of its 30 brands — Sulwhasoo, Laneige, Mamonde, Innisfree and Etude. A wide range of brands enables us to target a wide customer base from middle-class and wealthy customers to young and middle-aged ones, which leads to stable growth, the spokesman said.
Sulwhasoo is as pricy as foreign luxury brands, accounts for around 20 percent of total revenues and contributes significantly to the high profit margin. It became the first sole Korean brand to surpass W1 trillion in sales last year.
Sulwhasoo and Hera, another premium brand, accounted for 70 percent of duty-free sales in the first three months of this year, up from 60 percent in the previous quarter.
Amore Pacific does not use a face to advertise Sulwhasoo, which uses traditional herbal ingredients, while rival brands rely on Korean stars. The company wanted to develop Sulwhasoo into a leading brand by pitching the quality of the product, rather than relying on the popularity of the advertising models, the spokesman said.
Due to the slowing Chinese economy, most luxury label sales have decreased, but sales of high-end cosmetics, which are more affordable, continue to rise, said Lee Dal-mi, an analyst at Hyundai Securities. China's middle class keeps growing, so Amore Pacific's growth will continue as well.