Dr. Alan Jiang Joins Plexus Worldwide As VP Of Research And Development
May 13, 2016
By Team Business For Home
Plexus Worldwide, a leading direct-selling health, wellness and weight management company, announced that Alan Jiang, M.D., Ph.D. has joined the company as Vice President of Research and Development.
In his role Dr. Jiang will be responsible for research and development, product innovation, medical affairs, claims substantiation, and science education. He will report directly to Chief Marketing Officer Cindy Latham.
"Adding an expert of Dr. Jiang's academic stature and reputation within the dietary and nutrition supplement industry demonstrates Plexus' commitment to introducing best-in-class products to benefit our Ambassadors and customers," said Cindy Latham, Chief Marketing Officer of Plexus Worldwide.
"A graduate with honors from one of the most prestigious medical universities in the world, and with numerous published studies, Dr. Jiang brings Plexus a 20-year track record of success within academia and the health and wellness industry researching and developing top-quality products. We are thrilled that he chose to join our Plexus team."
"Like many scientists and academics, I get excited about the opportunity to take my expertise and experience to even greater levels and to introduce best-in-class products,"
said Dr. Alan Jiang, Vice President of Research and Development at Plexus Worldwide.
"In considering this opportunity, I was very impressed by the company's leadership, and it was clear that Plexus was on the right track – not only because of its fast growth but because of its long-term investments and commitment to excellence and science."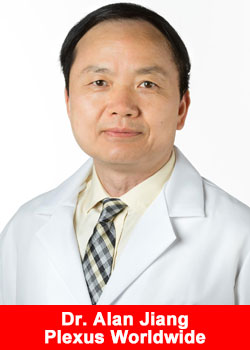 Dr. Alan Jiang has more than 20 years of experience in human nutrition research, R&D, scientific evaluation and communication, claims substantiation, project management, technical leadership, and marketing and regulatory support with academia as well as dietary supplement and food industries. Before joining Plexus, he was a head of Health and Wellness at McCormick and Co., and served for several years as Director of Scientific affairs for Herbalife International, as well asDirector of Scientific and Medical Affairs for Life Extension Foundation.
Dr. Jiang was appointed as faculty member and Laboratory Director of the Center for Human Nutrition, the world-class research center at Johns Hopkins University before he followed his passion and moved into the health and nutrition industry. Dr. Jiang has a Ph.D. in Nutrition from University of Minnesota and received his M.D. (cum laude graduate) from the College of Medicine at Zhejiang University in China, one of the most elite schools in Asia. His recent publications include articles in American Journal of Clinical Nutrition, Journal of Nutrition, The FASEB Journal, Journal of Medicinal Food, Journal of Agricultural and Food Chemistry, and a book chapter in The Pharmaceutical Press.
Dr. Jiang also served Ad Hoc Review Committee member of NIH grant applications in the sections of Diabetes, Kidney, Infectious Diseases, Epidemiology and Nutrition. He is a member of several professional societies such as American Society of Nutrition, and Fellow of American College of Nutrition.
About Plexus Worldwide:
Since its inception, Scottsdale, Arizona-based Plexus Worldwide has been helping people transform their lives with exceptional, science-based health, wellness and weight management products and an exciting home-based entrepreneurial opportunity.
Plexus has been featured on the Inc. 5000 list of fastest-growing companies, and was named the 46th largest direct selling company in the world in 2016, according to Direct Selling News (DSN). Plexus' core beliefs are simple: Be Trustworthy, Be Honest, Be Reliable, and Be Responsible. For more information about Plexus Worldwide visit www.plexusworldwide.com.