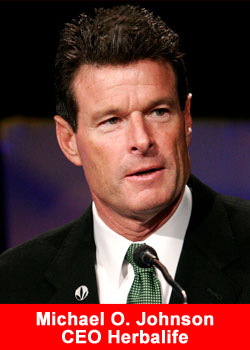 Herbalife Q1 Revenue Up 1% To $1.1 Billion
May 6, 2016
Herbalife Ltd. Announces First Quarter 2016 Results and Raises Full Year Adjusted Guidance
First quarter 2016 adjusted1 EPS of $1.36 per diluted share increased 5% compared to $1.29 per diluted share for the comparable prior year quarter. Reported EPS increased 22% to $1.12 per diluted share compared to $0.92 per diluted share for the comparable prior year quarter.
First quarter 2016 reported net sales of $1.1 billion increased 1% and 11%, on an as reported and constant currency basis, respectively, compared to the prior year period.
Volume points increased 4% in the first quarter 2016 compared to the first quarter 2015.
Raises FY '16 adjusted diluted EPS guidance to a range of $4.40 to $4.75; up from the previous range of $4.05 to $4.50.
Herbalife Ltd. (NYSE: HLF) reported first quarter net sales of $1.1 billion, reflecting an increase of 1% compared to the prior year period. First quarter 2016 net sales, excluding the impact of currency, grew by 11%.
Adjusted1 earnings for the quarter grew 5% to $1.36 per diluted share, compared to $1.29 per diluted share for the first quarter in 2015. On a reported basis, first quarter net income of $95.8 million or $1.12 per diluted share increased by 23% and 22% respectively, compared to $78.2 million or $0.92 per diluted share for the comparable quarter in 2015.
Due to currency fluctuations, first quarter 2016 net income and diluted EPS were negatively impacted by $27.5 million2 and $0.322 respectively.
Michael O. Johnson, chairman and CEO of Herbalife, stated,
We've started the year by exceeding EPS guidance on both the top and bottom line and by returning to reported net sales growth, year over year, the first time in 5 quarters. Our updated guidance reflects the confidence that we have for the remainder of the year as we continue to hold the line on expenses while investing prudently towards the future.
Johnson continued,
Our Members, through their growing and sustainable businesses, continue to engage with their customers on a much more personal level and are perfectly situated to be a leading part of the solution for many global health challenges facing the world today.
First Quarter and 2016 Key Metrics3,4
Regional Volume Point and Average Active Sales Leader Metrics
Volume Points (Mil)
Average Active Sales Leaders
Region
1Q'16
Yr/Yr % Chg
1Q'16
Yr/Yr % Chg
North America
319.5
7
%
74,631
-4
%
Asia Pacific
249.5
-6
%
71,301
-5
%
EMEA
260.7
14
%
77,380
12
%
Mexico
215.9
6
%
63,492
-3
%
South & Central America
177.8
-16
%
56,851
-10
%
China
155.2
36
%
28,291
40
%
Worldwide Total
1,378.6
4
%
358,742
0
%
Regional Net Sales and Foreign Exchange (FX) Impact
Region
Reported Net Sales

1Q '16 (mil)

Growth/Decline

including FX

Growth/Decline

excluding FX

North America
$
246.0
9
%
9
%

Asia Pacific

$
221.1
-9
%
-2
%
EMEA
$
198.4
6
%
17
%
Mexico
$
109.7
-11
%
7
%
South & Central America
$
127.0
-21
%
2
%
China
$
217.4
32
%
39
%
Worldwide Total
$
1,119.6
1
%
11
%
Outlook
Guidance for the second quarter 2016 includes an unfavorable impact from currency exchange rates of approximately $0.20 per diluted share versus the second quarter of 2015.
Full year 2016 guidance includes a currency headwind of approximately $0.70 per diluted share, compared to 2015, which is a $0.10 improvement over the guidance the company provided a quarter ago.
Based on current business trends the company's second quarter 2016 and full year 2016 guidance is as follows:
Three Months Ending
Twelve Months Ending
June 30, 2016
December 31, 2016

Low

High

Low

High

Volume Point Growth vs 2015
1.5%
4.5%
2.0%
5.0%
Net Sales Growth vs 2015
0.0%
3.0%
1.5%
4.5%
Adjusted Diluted EPS
$1.10
$1.20
$4.40
$4.75
Cap Ex ($ millions)
$65.0
$75.0
$145.0
$175.0
Effective Tax Rate
28.0%
30.0%
28.0%
30.0%
Currency Adjusted(a) Net Sales Growth vs 2015
5.5%
8.5%
6.0%
9.0%
Currency Adjusted(a) EPS
$1.30
$1.40
$5.10
$5.45
(a) Excludes the impact of Venezuela price increases tied to FX rate movements.
Guidance excludes the impact of legal and advisory services and expenses relating to challenges to the company's business model and regulatory inquiries, any impact from a possible settlement or litigation with the FTC, the impact of non-cash interest costs associated with the company's convertible notes and the expenses incurred related to the effort to recover costs related to the re-audits that occurred in 2013. Forward guidance is based on the average daily exchange rates of the first two weeks of April. With respect to Venezuela, the guidance assumes a SIMADI rate of 270 to 1 for the remaining full-year 2016 guidance.
First Quarter 2016 Earnings Conference Call
Herbalife senior management will host an investor conference call to discuss its recent financial results and provide an update on current business trends on Thursday, May 5, 2016, at 2:30 p.m. PT (5:30 p.m. ET).
The dial-in number for this conference call for domestic callers is (877) 317-1296, and (706) 634-5671 for international callers (conference ID 84070531). Live audio of the conference call will be simultaneously webcast in the investor relations section of the company's website at http://ir.herbalife.com.
An audio replay will be available following the completion of the conference call in MP3 format or by dialing (855) 859-2056 for domestic callers or (404) 537-3406 for international callers (conference ID 84070531). The webcast of the teleconference will be archived and available on Herbalife's website.
About Herbalife Ltd.
Herbalife is a global nutrition company that has been changing people's lives with great products since 1980. Our nutrition, weight-management, energy and fitness and personal care products are available exclusively to and through dedicated Independent Herbalife Members in more than 90 countries. We are committed to fighting the worldwide problems of poor nutrition and obesity by offering high-quality products, one-on-one coaching with an Herbalife member and a community that inspires customers to live a healthy, active life.
We support the Herbalife Family Foundation (HFF) and its Casa Herbalife programs to help bring good nutrition to children in need.
Herbalife's website contains a significant amount of financial and other information about the company at http://ir.herbalife.com. The company encourages investors to visit its website from time to time, as information is updated and new information is posted. To learn more visit Herbalife.com or IAmHerbalife.com.
Get more information, fact and figures about Herbalife, click here for the Herbalife overview.
Recommended Distributors