Laguna Blends Appoints Ray Grimm Jr. As New President
May 4, 2016
By Nicole Dunkley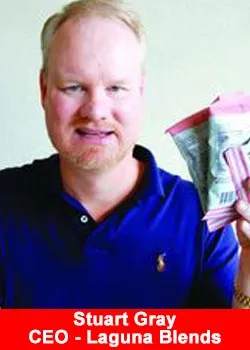 Ray Grimm has been a consultant and advisory to Laguna since January of this year.
Ray Grimm is a veteran entrepreneur with more than a quarter century of experience building some of the top nutritional and weight loss companies in direct sales history.
Mr. Grimm has what many consider to be the Midas touch in building multimillion dollar companies, three of which exceeded $50 million in sales within their first five years. In 2011, Mr. Grimm also created and co-founded one of the fastest growing weight loss brands ever developed producing $10 million in sales in its first year.
His vision, leadership and expertise in nutrition, weight loss and direct sales are unmatched and so is his unique formula for success all of which have benefited the physical and financial health of thousands.
Mr. Grimm has extensive experience in managing operations, sales, training and marketing of fast growing companies. He is a proud member of the DSA (Direct Selling Association) and founding member and current member of the MLMIA (Multilevel Marketing International Association).
Ray Grimm, President of Laguna Blends Inc. said, I am excited to be a part of Laguna Blends' executive team. Corporate and field leadership has contributed to building great companies in our industry and I'm delighted to join an experienced management team.
My focus will be to assist in building the culture, bring in new business builders, assist in product development and help generate sales growth over the next 5 years as we establish the Laguna Blends brand worldwide. My near term goal for Laguna Blends is having the Company become one of the Network Marketing Industry's top 100 Companies.
It's been a pleasure working closely with Ray as a consultant and advisory to Laguna the past three months. Ray brings vast experience, leadership and credibility to Laguna and has already attracted Network Marketing professionals whom have joined the Laguna business as Affiliates, commented, Stuart Gray, CEO.
Stuart Kawasaki, President of Laguna Blends USA said, I have enjoyed working with Ray the past several months and welcome Ray to the management team. Ray is a world class player in the direct sales Industry.
About Laguna Blends Inc.
The Company's business is focused on the nutritional health benefits derived from hemp. Laguna is a network marketing company that intends to generate retail sales through independent affiliates.
Affiliates utilize tools and technology that enable them to build an international business from their own home or while travelling. The first products to be launched are functional beverage products that provide high levels of protein and or nutrition.