Oriflame Q1 Revenue Down 1% To $305 Million
May 23, 2016
By Team Business For Home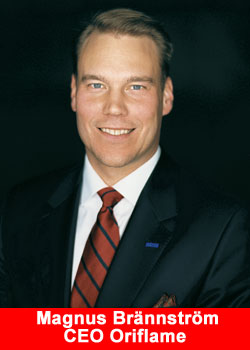 CEO Magnus Brännström comments:

"We are pleased with the overall local sales development during the first quarter, where sequential improvements are seen in most geographies. Asia & Turkey and Latin America continued to record double digit growth and increased profitability.
While the reversal of the previous negative sales trend in the CIS is promising, the situation remains uncertain with sustained external and margin improvement challenges. The positive sales momentum for the group has continued into the second quarter, further enhanced by some strong catalogues in April.
The underlying business and financial performance is encouraging, although we continue to be heavily impacted by persistent currency headwinds and deteriorating macro across many of our regions. Efficiency initiatives are ongoing and are delivering desired results."
3 months ended 31 March 2016
Local currency sales increased by 10% and Euro sales decreased by 1% to €305.8m (€307.8m).
Number of active consultants decreased by 9% to 3.1m.
EBITDA amounted to €27.7m (€23.0m).
Operating margin was 6.9% (5.6%), impacted by -370 bps from currencies, and operating profit €21.1m (€17.2m).
Net profit was €10.7m (€11.2m) and EPS €0.19 (€0.20).
Cash flow from operating activities was €21.5m (€24.1m).
During the quarter $80.0m of the long-term debt was prepaid, corresponding to a cash outflow of €56.0m.
The year to date sales development is approximately 13% in local currency and the development in the second quarter to date is approximately 17% in local currency. The quarterly number is positively impacted by timing.
Significant events after the end of the quarter
The AGM held on 17 may 2016 resolved that a dividend of €0.40 per share be distributed and paid in two installments: €0.20 to the shareholders of record on 15 November 2016 and €0.20 to the shareholders of record on 15 February 2017.
In April Oriflame's premises in Moscow and Moscow oblast had an unannounced visit by local authorities. Oriflame is still seeking the reason behind these visits and remains fully transparent to the authorities.
About Oriflame
Oriflame is a leading beauty company selling direct. We are present in more than 60 countries, of which we are the market leader in more than half. Oriflame has its origin in Sweden with corporate offices in Switzerland.
We offer a wide range of high-quality beauty products as well as a unique opportunity to join our sales force and start your own business.