Vorwerk 2015 Revenue Up 23.9% To Euro 3.5 Billion
May 23, 2016
By Team Business For Home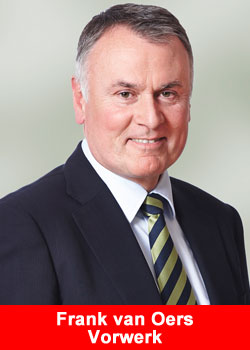 A new sales record, significant growth in almost all of its business segments and further expansion of its digital offering: At its financial press conference in Düsseldorf today, the Wuppertal-based (Germany) Vorwerk Group presented its figures for the fiscal year 2015.
"We have a very successful year to look back on," as the Managing Partners Reiner Strecker, Frank van Oers and Rainer Genes reported emphatically.
The Vorwerk Group's total sales volume rose by 23.9 percent to a present 3.5 billion euros in the reporting year. An impressive increase in the Group's business volume, which also takes into account new akf group business amounting to 1.1 billion euros. With business volume in 2015 totaling 4.1 billion euros, the Group generated year-on-year growth of 23.4 percent.
With revenue totaling 2.9 billion euros, the Group's core business – direct sales of premium products – once again proved to be a growth driver. In this segment, sales were up 27.6 percent. Outside of direct selling, the akf group succeeded in generating appreciable growth in both revenue and new busi-ness. Vorwerk flooring approximatelyequaled its sales volume of the previous year.
"As a family-owned company, we naturally also keep our sights on long-term development. In a ten-year comparison from 2005 to the present day, sales have almost doubled: from 1.8 billion euros to 3.5 billion euros," the Managing Partners reported.
In 2016, too, business got off to a good start with the divisions developing as expected so that by the end of April consolidated sales were 6 percent up on the figure for the corresponding period of the previous year.
In their report, the Managing Partners underscored the past year's advances with the expansion of the company's digital offering for Vorwerk customers. The best example of this is the Thermomix. By the end of this year, Thermomix will have launched the Cook-Key, an accessory with which recipes can by transmitted via Wi-Fi straight from the online recipe portal to the display of the Thermomix TM5 and then followed using the Guided Cooking function.
But the Kobold VR200 robot vacuum cleanercan also be conveniently controlled via cell phone. Vorwerk announced further initiatives in this field: "Furthermore, we will be collaborating with Wuppertal University to establish a Vorwerk Foundation professorship. The professorship will be concerned with the subject of technology and management of digital transformation – an important field of development for the future."
A main focus of the current fiscal year will be on the further expansion of the Vorwerk Group's production sites. The Executive Board has approved an in-vestment volume in excess of 170 million euros for major infrastructural devel-opments.
About the group
At the end of 2015, there were seven divisions operating within the Vorwerk Group: Thermomix, Kobold, JAFRA Cosmetics, Lux Asia Pacific, Engineering, the akf group and Vorwerk flooring. With Vorwerk Direct Selling Ventures, the Holding Company also operates a venture capital company. Since July 2015, Vorwerk has also been a player on the market for premium power tools with its new business unit, Twercs. Vorwerk Group products are obtainable in a total of 71 countries – either direct from the Group's own sales organizations or through its designated distributors.
Vorwerk Group partners' equity – including the fully consolidated financial services provider akf group – stands at 38.7 percent. A valuation at equity of the akf group results in partners' equity of 64,3percent. The Group's liquid assets are deposited chiefly in special funds and other readily realizable assets and totaled 1,113 million euros on the balance sheet date.
The Vorwerk Group opened an entirely new businessunit on July 1, 2015 with Twercs. The Twercs product is a unit charger case with four power tools in high-quality Vorwerk design: cordless jigsaw, cordless drill/driver, cordless stapler and cordless glue gun. With this product, the Twercs business unit positions itself in the tool industry's premium consumer sector. The market for power tools has developed very favorably in recent years so that Vorwerk sees great potential in this market. The strategy is to offer customers a wide range of creative materialscompletewith instructions and also to build up a Twercs community in addition to selling this premium product. Besides sales through the business unit's own online shop and in Vorwerk stores, direct selling with its inherent customer proximity is the most important sales channel.
The Divisions
Once again, Thermomix has proved itself to be the division with the most dynamic organic growth by exceeding its already impressive sales increase of the previous year: Thermomix generated 49.4 percent growth to bring total sales to 1.4 billion euros in 2015.
The Kobold division also generated a clear increase in sales of 16.1 percent to bring its total revenues to a present 1.0 billion euros, thus continuing the posi-tive trend of recent years.
JAFRA Cosmetics generated sales totaling 457 million euros to close the year with growth a clear 6.9 percent up on the level of the previous year.
Vorwerk flooring was able to hold its own despite the negative trend in the market for textile floor coverings, and at 88 million euros, sales remained at the previous year's level.
The akf group was able to boost both sales and new business, and generated a new record for new business of 1.1 billion euros (an increase of 16 percent). Sales rose by 9.6 percent to 443 million euros.
About Vorwerk
The Vorwerk & Co. KG family enterprise was founded in 1883. The holding company's registered office is located in Wuppertal, Germany. At the head of the corporate group are the Managing Partners Reiner Strecker, Frank van Oers and Rainer Christian Genes. Vorwerk's core business is the global direct sale of high-quality household products (Kobold vacuum cleaner, Thermomix kitchen appliance, Twercs tools, Lux Asia Pacific products) and cosmetics (JAFRA Cosmetics).
The Vorwerk family also includes the akf bank, Vorwerk flooring and its sister group, HECTAS. Worldwide there are more than 625,000 people working for Vorwerk, some 612,000 of whom are independent advisors. Vorwerk generated consolidated sales of 3.5 billion euros (2015) and operates in more than 70 countries.