11,500 Attendees At The Plexus Worldwide Convention
June 13, 2016
By Team Business For Home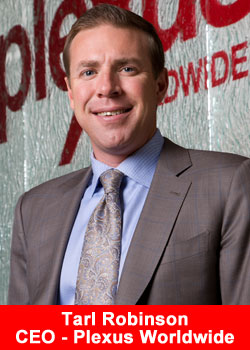 After months of planning and perfecting, Plexus Worldwide, a leading direct-selling health, wellness and weight management company, officially begins its annual convention in Las Vegas.
Sold out over two months in advance, more than 11,500 Ambassadors (independent resellers) are attending this year's "2016 Dream on Convention" , being held June 12-15 at the MGM Grand Hotel.
The "2016 Dream On Convention" promises to inspire, educate, and energize Ambassadors (direct resellers) through valuable training sessions, collaboration and keynotes that help participants grow financially and personally, including speaker John Addison, Author of Real Leadership: 9 Simple Practices for Leading & Living With Purpose.
In addition to the sessions, several special events are planned including a Winners Dinner, Dessert Reception and the company's largest ever Plexus Store. Singing and songwriting legend Michael Bolton will be performing, as well as American country music group Little Big Town, which was named American Country Music Vocal Group of the Year 2016 – the third time in four years.
"We've put together an amazing program of speakers to help our Ambassadors grow professionally, and we have a lot of fun events and surprises we are confident they will truly enjoy,"
said Tarl Robinson, CEO of Plexus Worldwide. "Plexus Worldwide's annual convention is always a popular and well-attended event, and this year we've already broken personal records with over 11,000 people attending who registered months in advance."
"For many Plexus Worldwide Ambassadors, Convention is a favourite event and yearly highlight as they celebrate past success and future growth,"
said Alec Clark, President of Plexus Worldwide.
"The excitement and positive energy felt from fellow Ambassadors is contagious, and one can't help but to be motivated and inspired upon seeing so many lives improved through Plexus.
I for one cannot wait to look upon the more than 11,000 attendees who share a common focus and passion yet have unique and personal stories of how Plexus is changing and improving lives."
Click here for more information about the "2016 Dream On Convention": plexus-convention-vegas-2016.squarespace.com/
About Plexus Worldwide:
Since its inception, Scottsdale, Arizona-based Plexus Worldwide has been helping people transform their lives with exceptional, science-based health and wellness products and an exciting home-based entrepreneurial opportunity.
Plexus has been featured on the Inc. 5000 list of fastest-growing companies, and was named the 46th largest direct selling company in the world in 2016, according to Direct Selling News (DSN). Plexus' core beliefs are simple: Be Trustworthy, Be Honest, Be Reliable, and Be Responsible. For more information about Plexus Worldwide visit www.plexusworldwide.com.