doTerra Hit $100 Million Per Month
June 15, 2016
By Team Business For Home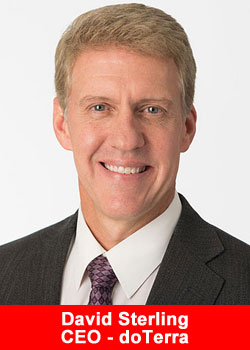 According to an article on doTerra.com the company:
hit $1 billion in revenue, and had the first $100 million month in 2016.
The US alone became a $1 billion market.
doTERRA became 100% debt-free.
doTERRA became the World's Largest Essential Oil Company.
1 million packages a month were shipped in the US.
doTERRA recently announced the grand opening of its new, 4500-square-foot office and product center which is 150 percent larger than the previous office, and will serve thousands of people living in and visiting Victoria.
The state-of-the-art product center, located at Level 1, 271, Wellington Road, Mulgrave, Victoria, Australia, is near the M1 and EastLink freeways, providing convenient, easy access for doTERRA's independent direct-sales, Wellness Advocate distributers in Victoria. The product center will be open to the public, where locals can experience doTERRA products and learn how essential oils support a healthy lifestyle.
"doTERRA is thrilled with our continuing expansion in Australia," said David Stirling, CEO, doTERRA.
"The new product center staffed by additional customer service representatives will not only serve our current team, they will be instrumental in providing the education, tools and support needed for future growth."
In 2015, the number of Wellness Advocates grew by more than 120 percent, which helped drive growth in the number of orders being picked up at the local doTERRA Product Center. The Wellness Advocates point to the highest quality essential oils combined with outstanding corporate support as significant growth factors.
The doTERRA commitment to quality in both products and education continues to drive business forward in Australia," said Mark Sheppard, a Blue Diamond Wellness Advocate. "That level of commitment from an organization attracts people who are compelled to join the movement of sharing healthy alternatives, thereby producing phenomenal growth in Australia.
DoTerra Top Earners In our Database:
| Nr. | Name | Est. Month | Est. Year | Company |
| --- | --- | --- | --- | --- |
| 1 | Hayley Hobson | | | |
| 2 | Patrick and Allyse Sedivy | | | |
| 3 | Boyd and Sandy Truman | | | |
| 4 | Andy and Natalie Goddard | | | |
| 5 | Roger and Teresa Harding | | | |
| 6 | Steven and Monica Hsiung | | | |
| 7 | David and Tawnya Hsiung | | | |
| 8 | Matt Hall | | | |
| 9 | Paul Ovens | | | |
| 10 | Nick and Jeanette Fransen | | | |
| 11 | Jeff and Jen Frey | | | |
| 12 | Li and Lance Fryling | | | |
| 13 | Nate and Brianne Hovey | | | |
| 14 | john and Melyna Harrison | | | |
| 15 | Mark Ewen and Christian Overton | | | |
| 16 | Maree Cottam and Dirk VanDerZee | | | |
| 17 | Matt and Kelly Anderson | | | |
| 18 | Tara Bliss | | | |
| 19 | Roman and Corrina Barrus | | | |
| 20 | Vern and Jenny Crawford | | | |
| 21 | Paul and Betsy Holmes | | | |
| 22 | Chung Ming Hsu | | | |
| 23 | Chih Lung Hung | | | |
| 24 | Elena Brower | | | |
| 25 | Eric and Kristen Pardue | | | |
| 26 | Riyo Ogawa | | | |
| 27 | John and Season Johnson | | | |
| 28 | Matt and Sara Janssen | | | |
| 29 | Clay and Jessica Iddings | | | |
| 30 | Mikalena Knight | | | |
| 31 | Toshiya Yanagihara | | | |
| 32 | Roger and Teresa Harding | | | |
| 33 | Ryan and Dani Smith | | | |
| 34 | James and Roxane Bybee | | | |
| 35 | KC and Jessica Moultrie | | | |
| 36 | Nate and Dana Moore | | | |
| 37 | Ange and Chris Peters | | | |
| 38 | Marie-Kim Provencher | | | |
| 39 | Gary and Karina Sammons | | | |
| 40 | Joel and Sherri Vreeman | | | |
| 41 | Melody and Cindy Watts | | | |
| 42 | Holly and Gabriel Lo | | | |
| 43 | Asako Kobayashi | | | |
| 44 | Josh and Keeli Martinez | | | |
| 45 | Sumiko Nobori | | | |
| 46 | Kyle and Kierston Kirschbaum | | | |
| 47 | Christian and Jill Winger | | | |
| 48 | Brad and Dawna Toews | | | |
| 49 | Scott and Rhonda Ford | | | |
| 50 | Jessie Reimers | | | |
Showing 1 to 50 of 169 entries