Herbalife Executive Receives 2016 Manufacturing Leadership Award
June 30, 2016
By Nicole Dunkley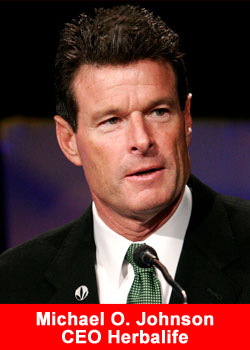 The man heading up Herbalife's transition to self-manufacturing was recently honored with a 2016 Manufacturing Leadership Award.
For the past 12 years, the Manufacturing Leadership Awards have recognized companies and individuals shaping the future of global manufacturing.
Herbalife's Senior Vice President of Worldwide Manufacturing and Engineering, Joseph Plunkett, P.E., received a "Visionary Leadership Award" during the program's Manufacturing Leadership Summit earlier this month in Carlsbad, California.
Plunkett has been with Herbalife since 1998, but more recently he has overseen the company's $250 million push to bring the majority of its manufacturing in house. Six years ago, Los Angeles-based Herbalife was manufacturing about 4 percent of its health supplements and shakes.
Today, the company manufactures nearly 70 percent of its products.
"I am honored, on behalf of the Herbalife manufacturing and engineering team, to receive this prestigious industry award," said Plunkett. "At Herbalife, we pride ourselves in making the necessary investments to create a competitive advantage in the manufacturing of regulated nutrition products such as dietary supplements, foods and acidified foods."
Among the company's recent manufacturing investments is an 800,000-square-foot Herbalife Innovation and Manufacturing (HIM) facility, complete with research and development lab, in Winston-Salem, North Carolina.
The facility came online in 2015. Herbalife also operates a 133,000-square-foot HIM in Lake Forest, California. Both are certified by NSF International, a globally recognized independent product testing firm, and comply with current Good Manufacturing Practices.
About Herbalife Ltd.
Herbalife is a global nutrition company that has been changing people's lives with great products since 1980. Our nutrition, weight-management, energy and fitness and personal care products are available exclusively to and through dedicated Independent Herbalife Members in more than 90 countries. We are committed to fighting the worldwide problems of poor nutrition and obesity by offering high-quality products, one-on-one coaching with an Herbalife member and a community that inspires customers to live a healthy, active life.
We support the Herbalife Family Foundation (HFF) and its Casa Herbalife programs to help bring good nutrition to children in need.
Herbalife's website contains a significant amount of financial and other information about the company at https://ir.herbalife.com. The company encourages investors to visit its website from time to time, as information is updated and new information is posted. To learn more visit Herbalife.com or IAmHerbalife.com.