Talk Fusion Global Opportunity Motivates Top Associates
June 13, 2016
By Nicole Dunkley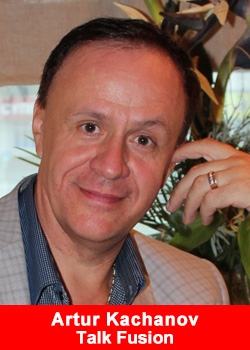 As a direct selling veteran and Talk Fusion Top Leader, Blue Diamond Artur Kachanov knows a thing or two about success. While he understands better than most that hard work, passion, and dedication are key elements to running a successful business, he also understands the value of working with the right company—and for Artur, that company is Talk Fusion.
Confident in both the opportunity and the products, Artur believes Talk Fusion's unique blend of Associate and Customer benefits gives the global video marketing leader an undeniable advantage in the marketplace—and that's not the only thing that sets it apart.
"There is no other company in the world that pays its commissions instantly," said Kachonov. "In 3 minutes, you can withdraw money from any ATM in the world!"
Talk Fusion's industry first Instant Pay Compensation Plan isn't the only reason new Associates from 140 countries join every day—its incentives are best in class.
From all-expense paid tropical vacations to the purchase of a brand-new Mercedes-Benz, the video marketing company rewards exceptional leadership in style. Rank achievements and lifetime earnings milestones are also celebrated with Rolex watches and stunning white gold and diamond recognition rings.
"Traveling to Maui, Hawaii for Dream Getaway is still one of the coolest incentive bonuses from Talk Fusion," said Kachanov. "And anyone can achieve it!"
The excitement and momentum surrounding Talk Fusion's business opportunity are palpable. Associates love the many ways they can earn and grow their businesses, but it's the way the products enable them to change lives and help businesses all over the world that is especially appealing. Talk Fusion's world's first all-in-one Video Marketing Solution provides what businesses around the world need: effective marketing products that generate results.
"People are looking for quality and affordable communication products," said Kachonov. "Businessmen all dream of cutting advertising costs and attracting the attention of new customers. The ease of use of its products is also one of the main reasons Talk Fusion is in demand by millions of people around the world."
Combining an industry-exclusive compensation plan, business resources, and training of its life-changing opportunity with its video marketing products' unmatched value, affordability, and innovative technology, Talk Fusion has shown its Independent Associates that it truly is a new breed of company.
"For those who really want to change their lifestyle and give their family financial freedom, Talk Fusion is really the best business opportunity," said Kachanov.
ABOUT TALK FUSION
Home of the world's first all-in-one Video Marketing Solution, Talk Fusion is dedicated to helping businesses stand out from the competition, increase sales and profits, and keep their customers coming back. Talk Fusion offers dynamic ways to make marketing more engaging, memorable, and persuasive with video.
Talk Fusion's innovative products are marketed person-to-person by Independent Associates in more than 140 countries. 30 day Free Trials of the all-in-one Video Marketing Solution are available to anyone who wishes to try before they buy—no credit card required.
Established in 2007 by Founder & CEO Bob Reina, Talk Fusion fosters a strong commitment to Giving Back to family, friends, communities, and animal charities across the world. Learn more or sign up for a 30 day Free Trial at www.TalkFusion.com and "Like" Talk Fusion at www.facebook.com/TalkFusion.
DISCLAIMER
The incomes and lifestyles depicted in this article are not representative of the results achieved by most Talk Fusion Independent Associates. Talk Fusion does not guarantee your financial success. For actual results achieved by all Talk Fusion Independent Associates, see Talk Fusion's Income Disclosure Statement at www.talkfusion.com.