HopRocket Appoints Henry Marsh As Vice Chairman
July 29, 2016
By Team Business For Home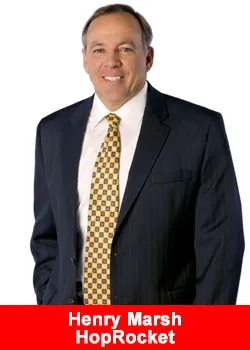 HopRocket, an exclusive online travel membership club, appoints Henry Marsh as Vice Chairman.
Henry Marsh is the most prolific distance runner in USA history. In 1988 he became the second male runner to make four US Olympic Teams.
He culminated his career with 13 straight years as one of the top ten 3,000 meter steeplechase runners in the world, including 3 years as number one. Henry won ten national titles and set four American records including the American record of 8:09:17 which he held for an unprecedented 27 years.
Henry received his law degree from the University of Oregon and practice law for several years before joining Franklin Covey.
Henry was a National Program Director at Franklin Covey where he directed curriculum development of the Rethinking Stress seminar which was taught throughout corporate America, and he is the author of the book, The Breakthrough Factor published by Simon and Schuster.
Henry has become a renown motivational speaker on the following topics: the dynamics of behavioral change, leadership, team building, sales, managing change, making obstacles opportunities, and breakthrough personal productivity. Henry's client list includes such companies as IBM, AT&T, Intel, Rubbermaid, General Motors, NationsBank, Nike, the NCAA, Rockwell International, Principle Financial Group, Arby's, MCI, and the US Air Force.
Henry also founded a global direct selling company. With his leadership the company broke every revenue and income record in the books in its first 4 years in business. During that time, he credits his partners, who allowed him to gain an incredible amount of knowledge about the network marketing business. He will bring those experiences and success principles to HopRocket.
His vision to serve others pairs perfectly with Project H.O.P.E. Henry believes when you serve other people you become better yourself. Which is why we will be working diligently with our Elite Members to provide them with the best business opportunity, memorable vacations and a whole lot of fun!
Danny Licciardi – HopRocket Elite SMD – stated:
His non compete ended July 1st and after many months of learning what HopRocket was all about he decided this is where he wanted to create his next story.

After being involved with Henry in my last company it is an honor to be partnered with him again. Knowing he decided HopRocket is where he wanted to be, just validated that HopRocket was the right decision for us
About HopRocket
HopRocket is an exclusive online travel membership club where unpublished discounted rates to the world's finest accommodations are the norm, not the exception. Take advantage of unbelievable prices on our travel offerings including hotels, condos, cruises and more!
Members have access to our HopShop™, where you can save on event tickets, brand-name clothing, local dining and other local deals at prices that will put a smile on your face. For more information please visit www.hoprocket.com