Life Matters Appoints Tommy Wyatt As VP Of Leadership Development
July 7, 2016
By Team Business For Home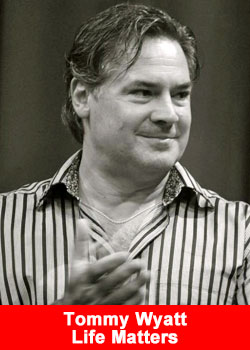 Life Matters has just named network marketing veteran Tommy Wyatt as their Vice President of Leadership Development.
Tommy is an award-winning industry leader with over 18 years of experience.
He will be out in the field supporting the building efforts of all Life Matters teams in North America.
Life Matters Owner and Chief Visionary Officer Richard Bliss Brooke said:
I have known and been inspired by Tommy for over 5 years. His values and what he can contribute are in line with what we're building at Life Matters. His heart to serve others is huge. I am grateful and so very excited to have him on our team.
An example of "walking the talk," Tommy has built organizations in the tens of thousands in nine countries. Tommy is also the co-author of a #1 bestselling book on Amazon: Appreciation Marketing: How to Achieve Greatness through Gratitude.
Kimmy Brooke, Life Matters Owner and Advisory Board Member, said:
After spending four full days in and out of the office with Tommy, I knew he was a great fit for our Tribe.
What sealed the deal for me was reading his book Appreciation Marketing. His philosophy and outlook on how to do business and life are in total alignment with who we are here at Life Matters."
In addition to Life Matters, Richard and Kimmy Brooke are the owners of Bliss Business, a generic coaching, tools and training business whose mission is to promote ethical network marketing to the masses (blissbusiness.com).
As mentors to the entire profession, surrounding themselves with people who share their vision of building with honor is vitally important, which makes Tommy a perfect fit.
Tommy said,
"Building with honesty, integrity, transparency, and honoring the individual … these are things that I hold in very high regard, so I've found the perfect home with Life Matters and owners Richard and Kimmy Brooke."
About Life Matters
Life Matters is a leading nutrition company located in Coeur d'Alene, Idaho, and offers four essential product lines: Life Shotz, a daily vitamin drink that works at the cellular level to revitalize mood;
VIBE, a superfood meal-replacement shake that gives the body the nutrients it needs; MIND, a cognitive nootropic that helps protect from cognitive decline and keep the mind sharp; and MOTION, a supplement for joint and total body health.
Life Matters is privately owned and powered by a network of Customers, Preferred Customers and Brand Representatives throughout the United States and Canada. To learn more, visit lifematters.net.