Zija Natural Health Revolution Ambassador Lindsay Debord
July 8, 2016
By Nicole Dunkley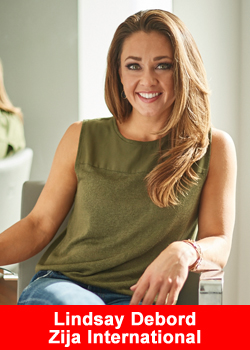 Zija International recently launched their Natural Health Revolution Ambassador program. The company has been focusing on the timely importance of embracing the Natural Health Revolution—an encouragement to naturally nourish, naturally improve our performance, and naturally restore the body.
Zija chose a solid group of individuals and Distributors who truly embody the company's Life Unlimited culture and are uplifting representations of the Natural Health Revolution.
These ambassadors, who will serve in this role for up to 1 year, have received specialized training and will be holding meetings together in pairs in various markets across the country—promoting the importance of the Natural Health Revolution.
Hear from Lindsay Debord in her own words on why the Natural Health Revolution is so important and how Zija International is helping her live Life Unlimited:
"I knew right away that Zija International was real; I could feel the genuine excitement over the product, which is what I was really looking for. I loved that it was a legacy company in motion, and striving to become one. The company, the culture, and the leadership were all a fit for me.
I love the Natural Health Revolution because it's what Zija truly stands for. The movement is really pioneering what people are looking for. I see and experience people being tired of unrealistic start-and-stop regimens and the unsuccessful "diet" mentality.
As a nurse working in healthcare, I can truly see that people want something that is real—not just a diet or a temporary fix. I call Moringa the best produce in the world because it has so much of what you need! It doesn't just cover up a problem; it addresses the root of the problem with its incredible nutrition. I believe everyone should know about this company and what it is doing worldwide. Everyone in the world should know about Zija and its products.
I think what sets me apart as a Distributor is that I really put myself out there. I feel like I have a classic example of a busy life: I am a working mom but still willing and totally hungry and eager to not be owned by a job.
I still have passion about who I am. I never let a title or a job become who I am as an individual. I've been able to choose whom I surround myself with and how I grow. I am constantly going to meetings and getting myself in front of the best leaders; it's an amazing experience.
The four pillars that Zija stands for—1. Health Wellness and Beauty, 2. Financial and Time Freedom, 3. Personal Development, and 4. Active Lifestyle—are what I am passionate about. I am such a huge believer in the 4 pillars, you can't just be really good at one, you truly need all four. I am aware of how much I've grown in all areas and how far I am continuing to push myself in all areas. I am pretty open about how every master was once a disaster. I am always working on myself—in all 4 areas—it's about being your best you and that's possible through the Natural Health Revolution.
With the Natural Health Revolution I see a culture forming; one in which all people can come in and be who they are and really living Life Unlimited. We are all apart of something and all excited to share the Natural Health Revolution with anyone and everyone.
Life Unlimited means that I am not owned by living paycheck to paycheck, I'm not depending on anyone, and I'm not limited by a lack of health. Whatever I want to do within the 4 pillars, I can go do with Zija International! I clock into my own life and design it how I want, and it's only because of Zija and the 4 pillars that I can live the way I want. I am not limited; I am not hoping to take a vacation one day, or to be health one day. Because I have taken advantage of the Zija opportunity and the Moringa products I can make those things happen NOW."
ABOUT ZIJA INTERNATIONAL
Zija International, a privately-held and privately-funded business founded by Kenneth E. Brailsford and led by Ryan Palmer, develops natural health, wellness, and beauty products. The company operates in more than 50 countries worldwide, pioneering the #NaturalHealthRevolution to help individuals achieve Life Unlimited.
Zija has seen consistent growth every year since it was founded over 9 years ago and has received several awards, including and being named the Fastest-Growing Company in Utah by Utah Business Magazine. It has also been recognized on fastest-growing and top-revenue lists by Inc. Magazine, Direct Selling News and Utah Valley Magazine, and has received industry-specific MarComm, American Business (Stevies), and Davey Awards.
With corporate offices located in Lehi and more than 4 million sq. ft. of state-of-the-art warehouse, shipping and manufacturing facilities located in Utah, United States, Zija International employs more than 200 individuals and has the capacity to grow to more than two billion dollars in annual sales.