5LINX To Release Streaming Television Service
August 6, 2016
By Team Business For Home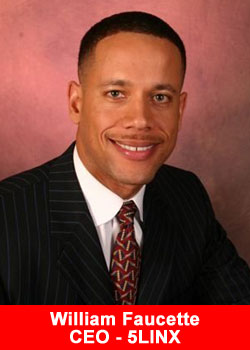 Nine time Inc500/5000 honoree and International network marketing company, 5LINX Enterprises, recently unveiled the newest on-demand TV service, "Turvi TV" which is already turning heads.
This service, which has packages of up to 300 network channels will allow anyone with an internet or even a 3G or 4G connection to access live and on demand television and streaming content for under $30/month with no contract and no credit requirements.
5LINX President, Farshad Tafazzoli predicts Turvi TV projects a minimum of 10,000 pre-orders in the August 2016. However insiders are much more ambitious, predicting far more order before its official launch in mid September.
Turvi TV subscribers will even have the ability to pick their favorite 10 channels and be able to view content on those channels for just $25/month. Non-frugal subscribers will be able to enjoy nearly 300 channels, including premium content, on demand streaming music and more for under $70/mo.
One goal of Turvi is to be in every major US market by the end of 2016 and head into various international markets in 2017.
In a demo video released last year, a Turvi executive demonstrated how a user can access over 100 major international TV stations where a user can select any country and watch relevant TV programs.
Turvi is already being compared as a next-generation alternative to "Sling" and Sony Playstation's "Vue"—which disappointed many of its users with buffering problems and high end internet speed requirements.
Early adopters of Turvi, including those within the 5LINX salesforce are amazed at its features which include built-in DVR capabilities, patented technologies and its reliability as less bandwidth is required to maintain a quality HD signal. Furthermore, up to five concurrent devices can be used on one account.
"All subscribers need is a Smart TV. If they don't have one, purchasing an Amazon Firestick or a Roku 2 or Roku 3 device will do the trick", says newly Promoted 5LINX Senior Vice President, Ricardo Suber.
"Subcribers will be able to stream content from their laptops, tablets and smartphones as well.
This service is about to change the way we watch TV." Ricardo is one of many 5LINX representatives who is excited about the launch. Turvi TV is exclusively being sold through 5LINX Salespersons where they will earn ongoing commissions every time a bill is paid.
About 5LINX
5LINX has helped customers live better lives since 2001 by offering life-enhancing products and services. We were recognized by Inc. Magazine as one of the fastest growing private companies in the United States nine straight years
. Direct Selling News—the direct sales industry's premier publication—named 5LINX to its Global 100 list of largest direct sales companies in the world in 2012, 2013, and 2014.