Laguna Blends Appoints New CFO, Corporate Secretary And Director
August 10, 2016
By Nicole Dunkley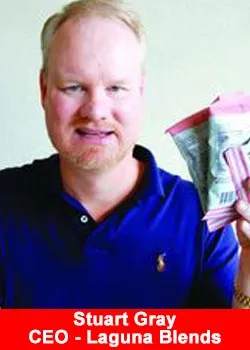 Laguna Blends Inc. (the "Company" or "Laguna") is pleased to announce it has appointed Bryan Loree as Chief Financial Officer, Corporate Secretary and to the board of directors effective immediately.
Mr. Loree has approximately ten years of experience providing chief financial officer, accounting, financing, and management services to numerous issuers on the TSX Venture Exchange, Canadian Securities Exchange, and private companies.
Mr. Loree is a CPA, CMA and possesses a BA from Simon Fraser University.
Mr. Loree will replace Mr. Stuart Gray, who was acting Chief Financial Officer. In addition, Bryan Loree will replace Negar Adam as Corporate secretary and director.
Mr. Bryan Loree, CFO of Laguna Blends said, "It's a pleasure to have the opportunity to join the team at Laguna during this rapid growth phase of the Company. Laguna is operating in an exciting sector and I look forward to being involved in the future milestones of the Company."
Stuart Gray, CEO and founder of Laguna Blends Inc. said,
"It's a pleasure to have Mr. Bryan Loree join our management team. His financial and accounting experience is impressive and will strengthen Laguna's ability to seek quality business opportunities, financings and increase sales to profitability.
About Laguna Blends Inc.
The Company's business is focused on the nutritional health benefits derived from hemp. Laguna is a network marketing company that intends to generate retail sales through independent affiliates.
Affiliates utilize tools and technology that enable them to build an international business from their own home or while travelling. The first products to be launched are functional beverage products that provide high levels of protein and or nutrition.