QNET Introduces Skincare For Men
August 19, 2016
By Team Business For Home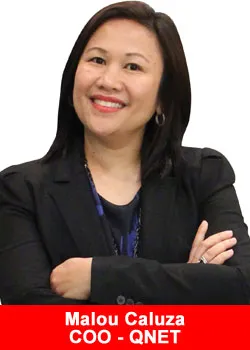 Leading Asian direct selling company, QNET debuts two new formulas developed by top skincare manufactures from France; made from the most cutting edge technology: DEFY Dirt Fighter and Defy Youth Tonic.
DEFY DIRT FIGHTER functions as a Cleanser, Mild Exfoliator and Shaving Foam. It is powered by NVIRO-P; an exclusive combination of active ingredients that protects skin from environmental damage. Its key ingredients are Alteromonas Ferment Filtrate, which serves as an exotic cleanser as it quickly cleanses the skin and protects it against urban pollution.
It also has Bitter Orange Oil – whose bitterness destroys bacteria and tones the skin. Two other main ingredients are Natural Fruit Extracts – a potent mix of concentrated blend of bilberry, sugar cane, sugar Maple, Orange and Lemon extracts that increases skin cell renewal for younger looking skin and Portulaca Oleracea Extracts, which is acne buster and helps soothe away inflammation and irritation. DEFY Dirt Fighter helps clean the skin, reduce minor skin blemishes, smoothen and even-out skin tone, hydrate, manage acne and oily skin and reduce irritation from shaving.
DEFY YOUTH TONIC is known to help reduce wrinkles in a short period of time. It functions as wrinkle-reducing, anti-ageing serum, moisturiser and aftershave- all-in-one compact application. It uses micronized structured water to deliver the exclusive force of TRI-GENICS, a combination of 3 powerful wrinkle-fighting peptides.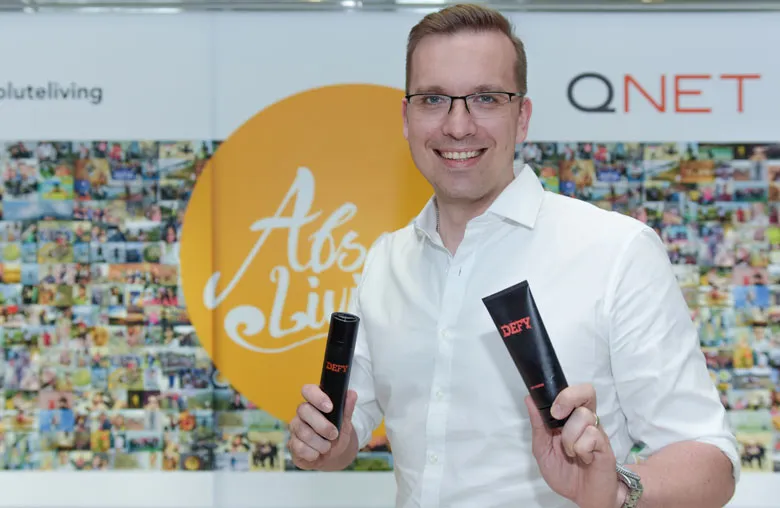 The Key Ingredients in this product are Argireline – armed with 6 powerful natural amino acids, it fills up fine lines and wrinkles , X50 Myocept – the latest cosmetic delivery technology that cleverly releases active ingredients to damaged cells and Silanetroil & Hyaluronic Acid Booster – to keep skin firm and hydrated. The Youth Tonic helps reduce facial lines, provides smoother skin, moisturises skin and gives the face a slight lift. Both DEFY Dirt Fighter and DEFY Youth Tonic products are meant to be used as part of an everyday regimen to reach maximum benefits for the skin.
DEFY is one of QNET's key component of its recently launched 'Absolute Living' campaign, an initiative to aggressively promote the importance of healthy living. Trevor Kuna, QNET's Chief of Marketing has urged all guys to "Man Up" and take better care of their skin.
"It is quite common that men have absolutely no idea how to take care of their skin. Shaving, showering, cleansing and exfoliating can dry your skin out, making it thinner and less elastic. This worsens as you get older, and your skin starts to lose collagen and elasticity, and then wrinkles appear.
You'll need to replenish your skin's natural moisture with a moisturiser to keep those wrinkles to the minimum. By the way, it's also a great way to prevent razor-burn post-shaving," added Trevor.
On the concept of Absolute Living, Trevor said it was derived from the underlying purpose of each QNET product to give everyone a chance of improving their lifestyle to a more holistic and wholesome one. QNET's products and services have the overarching goal of making complete wellbeing accessible to all and aims to create awareness towards health and wellness.
About QNET
As a prominent Asian direct selling company, QNET provides a wide range of life enhancing products that are offered through its proprietary e-commerce platform to customers and distributors in more than 100 countries. The company also has some 25 offices and agencies worldwide, and more than 50 stockists, apart from localized operations or franchisees in a number of countries. In UAE QNET operates from 3 locations, offices in Dubai and Abu Dhabi as well as a logistics hub in Mussafah.
Established in Hong Kong in 1998, QNET is a member of the Direct Selling Associations of Malaysia, Singapore, the Philippines and Indonesia. QNET is also a part of the Hong Kong Health Food Association and the Health Supplements Industry Association of Singapore among others.
QNET is also active in sports sponsorships around the world, including football (Direct Selling Partner of Manchester City Football Club), Formula One, badminton and more, due to the company's strong belief that the drive, passion and teamwork of sports mirrors that of QNET. For more information, please visit QNET's website at www.qnet.net