Rachiele David Roars Ahead With LEO
August 3, 2016
By Team Business For Home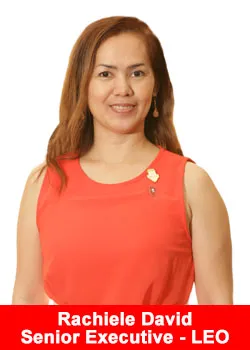 Rising star, Rachiele David, joined global entrepreneurship training and education company Learning Enterprises Organisation Ltd (LEO) in August 2015 and is already a roaring success.
Recently achieving Senior Executive rank with this innovative direct selling business, it seems that the sky's the limit for online marketing specialist.
Based in Las Piñas City, the Philippines, Rachiele David has worked in network marketing for almost two decades. After working for companies which did not meet her expectations, she discovered LEO when searching for what she calls 'the real deal'. Happy that she has now found 'the one', her progress is remarkable.
So, with her ultimate goal to reach Director rank as soon as possible, what drives this inspirational female entrepreneur on?
Ted Nuyten asked Rachiele a few questions to find out more:
You've achieved a lot within a short period of time – what is the secret to your success?
You have to be passionate and dedicated to what you do. Consistency also plays a major part. I am an online marketer – 90% of my activity is done on the net and 85% of my input comes from my online activity. For me I always say, we have to maximize the tools that we have – the Internet and social media have changed the way we do our business nowadays.
What led you to LEO and what do you like about the company?
After building huge organizations for companies that fell short of my expectations, I had this deep urge to look for the real deal. The thing I like most about LEO is that they know where they want their business to go in the years to come, and they are transparent with it. They involve their Members – they make us feel that we are very much part of the success of this company.
LEO has given me back my confidence in what I can do as an individual, that I can affect and be an instrument to inspire people to dream once again, that there is still hope after all the madness that is going around the networking industry. It has made me redeem not just my financial losses but my credibility as a person as well.
What motivates you to do well in your LEO business?
My motivation comes from other people and from my team – proving to them that there is a company that could actually give us not just financial freedom but could make us world-class entrepreneurs irregardless of what our stature in life is. I am motivated to see my team winning in their battle with life because of LEO.
Being in this industry for quite a long time I can say that I have seen the worst, I have been there and my strength comes from the fact that I know and I believe that I have found the one; and that it just needs patience and a lot of will power to make people, to make my team, realize that this is what they are looking for – the break that everybody needs. I always make sure to give them a daily dose of motivation to get them going.
How does your LEO business fit in with your family commitments?
I work from home around my family and it's perfect. LEO is great as a home-based business for moms like me. My family also motivates me, seeing them in full support of what I am doing makes me feel complete. After all, this hard work would be empty without our loved ones.
What top tips would you give to other women who might want to start a business?
Do not be afraid to try new things. We shouldn't be confined to our gender. Be open to new ideas, new opportunities. Just because you don't know something you should not stop exploring. It's the 21st century, the world is now open to us, we just have to have the willingness to learn and should have the determination to earn more than our men do.
People will talk about you whether you do good or bad. So give them something good to talk about, and let your success make the noise.
About LEO
Learning Enterprises Organisation Ltd (LEO) is an entrepreneurship training and education company which uses personal recommendation to introduce Members to its products and services. Established in 2012, LEO is a truly global company with eight offices spanning five continents, and already has over 200,000 Members in more than 120 countries.
LEO has a unique program which helps people to LEARN, with the training products it provides, EARN at the same time, by marketing these products, and also has a selection of ownership award programs that help Members achieve their dream to OWN a successful business.
LEO's core products are designed to help people start their own business – eLearning, eTutoring, Technology and Live Seminars. However, the LEO Ecosystem does not stop there, but includes some highly innovative services, including its own digital currency, LEOcoin, and crowdfunding platform, LEOcrowd.
LEOcoin is a decentralized digital currency that is anonymous, secure and user-friendly. Designed to be more easily understood than some digital currencies, it is projected to have a more mass market appeal. For the budding entrepreneur who lacks the funds to launch their project, LEO also provides LEOcrowd, a trailblazing crowdfunding platform which also facilitates payment via digital currencies.