USANA Names Rob Sinnott As Chief Scientific Officer
August 22, 2016
By Nicole Dunkley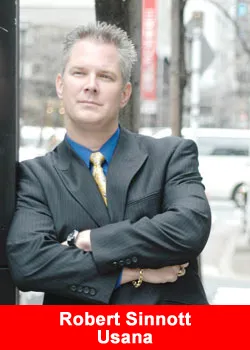 As USANA Health Sciences prepares to announce a scientific breakthrough this week at its 2016 International Convention in Salt Lake City, the global nutritional company welcomes Rob Sinnott, PhD. to its award-winning research and development team as its new chief scientific officer.
Dr. Sinnott brings to USANA more than 25 years of experience and leadership in life sciences, chemistry, biotechnology, and nutrition, with 18 spent directly in the nutritional supplement industry. He has held numerous scientific and leadership roles.
Co-CEO Rob gained our attention because of his exceptional leadership and experience in our industry, said USANA Dave Wentz. I'm happy he's coming aboard to grow the research and development team and push our innovation to the next level.
Dr. Sinnott received his bachelor of science in biological sciences, and his master's and doctorate of natural science in plant sciences from
Arizona State University. His focus was on applied biological sciences, including biotechnology and plant medicinal chemistry.
He also completed postgraduate coursework in a variety of business topics at Harvard Business School, Massachusetts Institute of Technology and the Hong Kong University of Science and Technology, and holds five patents that have been issued across the United States, Australia, New Zealand, South Africa and Singapore.
USANA has a long-standing reputation in the industry for producing premium quality health products that improve lives, said Dr. Sinnott. I look forward to building on that legacy and leading this world-class R&D team into the future.
About USANA

Founded in 1992, USANA Health Sciences (NYSE: USNA) is a U.S.-based nutritional company that manufactures high-quality supplements, personal care and healthy products in its FDA-registered facility in Salt Lake City. Learn more about USANA by visiting our website https://www.usana.com or the official USANA blog https://whatsupusana.com.